It's lovely visiting the great British countryside. But if you love wildlife, you need to be careful where you spend your money. It's too easy to unknowingly give your cash to businesses that are either involved in or support hunt crime, whether it's fox hunting, deer hunting, hare coursing, or something else illegal and vile. This post reveals what you need to know about leveraging your consumer power to foil wildlife crime.
City and town dwellers beware – don't fund wildlife crime!
We're lucky to have such a variety of lovely landscapes to discover, underpinned by our islands' extraordinary geology. But the beauty of rural England, Scotland, Wales and Ireland is marred by a twenty year scandal, a shocking crimewave without precedent. All over the UK rural criminals are still hunting and slaughtering foxes and other mammals with packs of dogs, even though it has been illegal since 2004. And too few people in towns and cities know about it.
At the same time, consumers are powerful individuals. We choose where we spend our money and where we don't. And that means everyone visiting the countryside on holiday or for a day trip can play a vital part in stopping the UK's fox hunting crime scandal.
Your money matters. Here are some simple things you can do to keep your money out of their cruel criminal hands, and keep our precious wildlife safe from the slaughter.
Tips for consumers to avoid funding wildlife crime
Looking for a rural wedding venue? Unusually high numbers of countryside wedding venues are involved in fox hunting, or support it in one way or another, so ask the owners before you book. The same goes for so-called wildlife tours, another sector where hunters are rife. These services sound lovely on the face of it, taking you up onto the moors and mountains to watch wildlife, but throughout the winter they'll be out breaking the law, hunting and slaughtering foxes, deer, hares and more with packs of dogs.
The National Trust has banned hunting on its land. But the owners of private stately homes and gardens represent another rich seam of hunt-friendly types, and plenty of them ride with hunts. Ask before you visit.
Farm cottages and holiday cottages are often located on land whose owners permit fox hunts, support hunts, or ride with a hunt themselves. And pony trekking businesses are another one to watch, since so many of them feed into the hunt fraternity. The UK's Pony Clubs are particularly bad. As you can see from the screen shot below, the Pony Club's deep involvement with hunt crime is clear. The organisation as a whole is notorious for indoctrinating children into hunting, sometimes even taking kids on visits to hunt kennels.
The same goes for rural equestrian events like point-to-points and rural dog shows. Most of them are connected with hunting in one way or another. County Shows and other agricultural events just as bad, allowing hunts to exhibit therefore implicitly supporting hunt crime.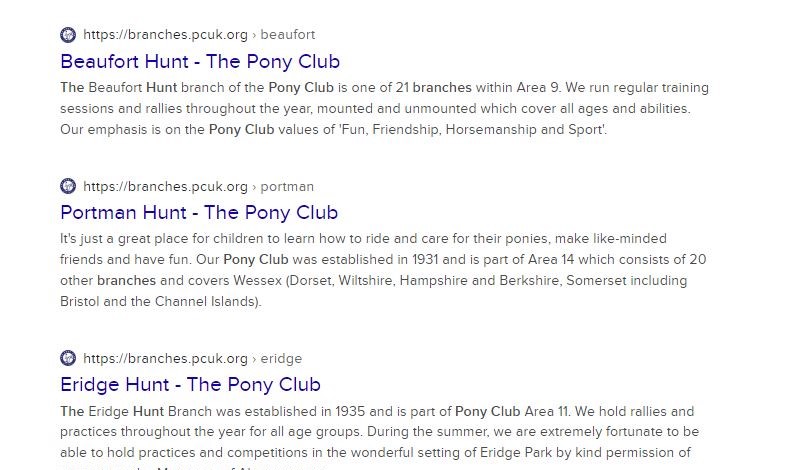 Next, country pubs. If a pub is called the 'Hunters Arms' or its name has any other hunting connotations, beware. Plenty of innocent-seeming rural pubs, with or without hunt-led names, actively support hunting by welcoming hunt meets and holding hunt events on the premises. Again, ask first before spending any money with them. To help you find out which pubs to avoid, there's a handy Twitter account called Hunt Pubs, which gives consumers a list of pubs that support hunting.
If a gastro-pub or restaurant offers game birds, venison or anything similar on the menu, you'll need to ask them if they hunt or support hunting. In fact it's worth asking every kind of rural tourism-focused attraction whether they have anything to do with hunting before handing your money over. Ask farm shops. Ask farm-based petting zoos. Ask the owners of camping sites and glamping sites. If you're suspicious, and you care about the UK's wildlife, ask the question.
Will you get a honest response from a hunt-friendly business?
The nation's criminal hunting fraternity is in denial. There's a good chance they'll lie to you. But simply asking a business owner if they support hunting or ride with a hunt will put the wind up them, and they'll talk about it to their fellow hunters and hunt supporters.
There's more you can do. Tell your friends, family and colleagues what you've discovered. Share it on social media so others know which businesses to avoid. Write to the businesses to express your disapproval. Make comments on their social media accounts and give them honest reviews. Report them to local hunt saboteur and hunt monitor groups so they can also share the intel far and wide. Message the nearest 'locals against hunting' Facebook page. You might even choose to write to local and national newspapers, TV stations, and radio stations.
Every time you mention it, you hammer another nail into hunt crime's coffin. Thank you from the foxes, deer, hares, otters, badgers, mink… x