This is our 2022-23 fox hunt season activity report. It details the activities, crimes and rule-breaking of the Torrington Farmers Hunt and Stevenstone Hunt, both of which operate around Great Torrington in North Devon. 
Local people, the police, and landowners can use the information to help protect wildlife, keep their pets and livestock safe, keep an eye open for hunt and hound trespass, and avoid hunt crime in the 2023-24 fox hunting season. We'll also be sharing it widely on social media and beyond.
First we provide an introduction to why we've made the report
Then we detail the intel and information we've been given by local people, adding in the relevant local Hunt Saboteur reports
At the end you'll find images and video to support our report, adding past and present context
The information is presented in date order, from the end of the season in early spring 2023 to the start of it in late summer 2022.
We are fighting to end almost two decades of blatant fox hunt crime
Organised Crime is defined by the CPS as 'planned and co-ordinated criminal behaviour and conduct by people working together on a continuing basis.'
The definition fits fox hunting perfectly. But almost 20 years since Statute Law made it illegal to hunt wild mammals with packs of dogs the people who ride with the Torrington Farmers Hunt and Stevenstone Hunts kill our foxes – and most of the time the police do nothing.
Wildlife photographer Richard Bowler sums it up. "I've always found it baffling how much criminality is tolerated and enabled by the authorities and those in power. All to destroy such a beautiful animal in such a barbaric way. In all the years I've campaigned for foxes, the evidence has been overwhelming. A quick Google and you'll find so much evidence of criminality, not just cruelty but assault, criminal damage, theft, trespass, grievous bodily harm, in some cases attempted murder. I can think of no other criminal activity that gets such a free pass."
The Torrington Farmers Hunt and Stevenstone Hunt are not allowed to block the roads, delay traffic and cause hazards, but they do. They're supposed to lay trails but they don't. They're not allowed on the Tarka Trail but they use it anyway. They're not allowed to leave hound shit everywhere, but that's what happens when their hounds trespass on people's property and in public spaces.
They are not allowed to hunt wildlife with packs of dogs, not allowed to assault and threaten the public, and not allowed to bully the people who try to monitor and stop their crimes. But they do. They're not allowed on nature reserves, Devon Wildlife Trust land or private re-wilded land. But they hunt there. Landowners are supposed to look after their animals, but hunt-enabling farmers let hunting hounds terrorise livestock.
If these people were gangs of burglars, the authorities would have come down on them like a ton of bricks two decades ago. As it is, fox hunters and their collaborators take the mickey out of the police, the law, local landowners, local people, the environment, conservation, and wildlife.
The Torrington Farmers Hunt & Stevenstone Hunt 2022-23 season
24th April 2023
A NEW TEAM OF WILDLIFE CRIMINALS TAKES OVER THE STEVENSTONE KENNELS
We reported how Archie Clifton-Brown left the Stevenstone kennels to leave new people in charge: Rachel Bond and her boyfriend. Rachel's parents and grandparents own Pencleave farm up in Frithelstock. They own plenty of land around Frithelstock too, and also the land opposite the kennels on the other side of the river. The Bond family is widely known and disliked locally for their support of fox hunt crime, and for permitting fox hunt crime on their land. We'll be keeping an eye on them and the situation.
17th April 
DEVON COUNTY COUNCIL AND THE POLICE HAVE WRITTEN TO THE TORRINGTON FARMERS HUNT AND STEVENSTONE HUNT
The letter tells both hunts that they are not allowed on the Tarka Trail. A few days after the letter was handed to them, hunters were spotted trespassing on the Tarka Trail. They clearly don't care about the law, the police, the county council, or the people who use the Trail. If you see hounds or hunters on the Tarka Trail please report it to Devon County Council or Devon and Cornwall police. Let us know as well, so we can name and shame them here and add them to our long list of local hunt anti-social behaviour and crimes.
16th March – From our local Hunt Sabs
Stevenstone Hunt 15.3.23
On Wednesday we visited the end-of-season meet of the Stevenstone Foxhounds at their kennels in Great Torrington. With their own hunts finished for the season, some other local scum like South Tetcott huntsman Tim Ingram and Torrington Farmers' kennel huntsman Jack Rowley had their formal wellies on to watch Stevenstone huntsman Archibald Clifton-Brown hunt on and around the Tarka Trail.
The hunt left the meet and immediately covered a lot of ground, heading through Smytham Manor and eventually onto Stowford Moor. The hunt spent most of the day determined to kill in this area, completing several loops between Lambert Moor and Vinny Copse. There were some close calls, with hounds in cry multiple times only a few yards behind a fox but sabs were able to intervene and scatter hounds and allow the fox to escape.
Desperate to kill in front of other huntsmen, Archibald was on and off his horse all day, crawling red-faced through hedges and scattering his hounds widely so he spent most of the day with half a pack. Terrierman Alex Wass was also on hand to scream at sabs. Alex thinks being locked in a tiny metal box not big enough to turn around is good for his terriers. We hope he gets to experience the same thing one day soon.
After failing at Stowford Moor, huntsman Archie, in his shabby orange coat, went north towards Langtree Common. Another fox was hunted on land belonging to bottled water company Tarka Springs. Sabs tried to intervene but were ejected from the land by the business owner who didn't seem to care that the hunt were illegally chasing foxes across his land. We believe this fox got away although we cannot know for certain.
From here the hunt carried on into Pencleave Wood. Hounds were again in cry and scattered for miles as Archie dropped his support to go hunt them on and eventually just find them again. A recently-killed fox (although we don't think killed by hounds) was found wedged in the entrance to a badger sett. The same sett had multiple suspicious craters, indicating a digout had probably taken place here on a previous occasion.
With the weather turning and light fading, by around 6pm the few remaining diehards from the hunt finally made their way back to the meet ending an exhausting day for hounds, horses, sabs and the wildlife. The Tarka Trail is a popular route for cyclists, walkers, bird-watchers and other normal people. If you use the trail and don't appreciate sharing it with violent animal abusers, let Torrington Town Council & Torridge District Council know.
15th March
ON SATURDAY THERE WAS HUNT ACTIVITY ON CLINTON DEVON ESTATES LAND AT MERTON
Shame on them for permitting almost two decades of wildlife crime on their land – and for actively facilitating it by giving local fox hunts annual licenses for fictional 'trail hunting'. The Clinton Devon Estates website claims to 'protect habitats, wildlife and natural systems' – which is clearly greenwashing. They also say they're 'doing today what is right for tomorrow'.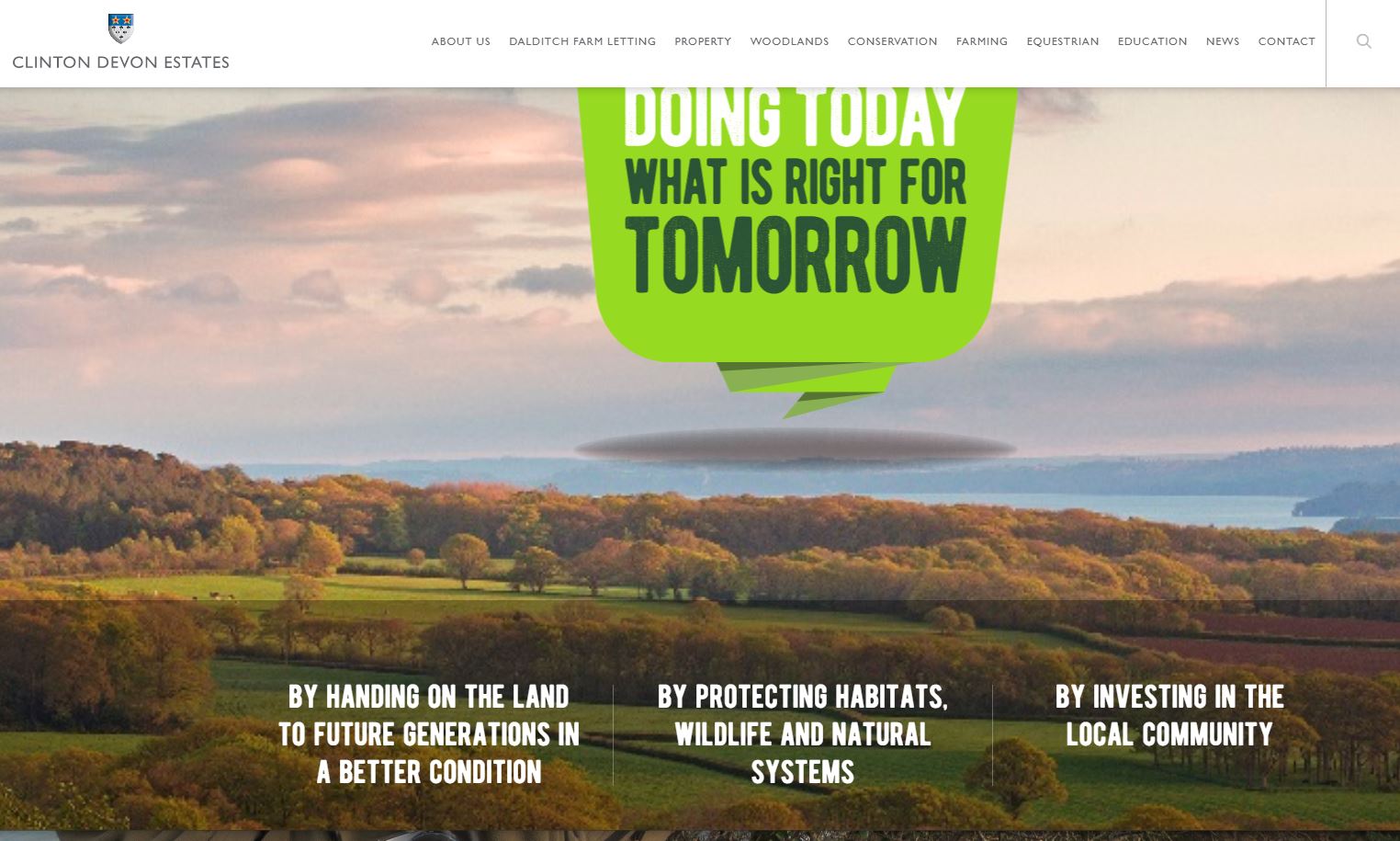 15th March
HUNT ALERT! We have several reports of the Stevenstone Hunt horse boxes and trailers parked outside the Puffing Billy and more at the kennels. If we owned the pub we would not be happy. Is this their last hunt of the season? If you live around there, keep your pets, land and livestock safe.
27th February 
LOCAL FOX HUNT CRIME ENABLERS REVEALED?
On Saturday several local people and drivers told us there was hunt activity taking place in the Huntshaw Mill / Millbrook area. Did the owners of property around there know, and did any of them give permission for the hunt to access their land? Now we find out that the Weeks family may have invited the Torrington Farmers Hunt onto their property for their Saturday meet. Does the Weeks family realise that they can be prosecuted under the Hunting Act for allowing fox hunting with a pack of dogs on their property? If not, it's about time they woke up.
22nd February
DODGY FOX HUNT CRIMS FAIL TO GET THE REQUIRED PERMISSIONS FOR USING OUR ROADS
The Torrington to Bideford A386 has advanced warning of a legal two hour road closure next month for the half marathon. They've clearly done the right thing and applied for permission. When someone asked Devon County Council about laying hunt trails along roads, this is what they said:
"You will need to apply for a special event application. Please be aware that Devon County Council does not support illegal activities and if we are made aware that your event has become a traditional fox hunt we will contact the police." 
If you see the Torrington Farmers Hunt or Stevenstone Hunt criminals on the roads today, please let us know so we can report it here.
18th February
Hunt alert! We're getting many reports of the Torrington Farmers Hunt hunting foxes at Deepmoor and the farm opposite.
 18th February 
HUNT ALERT!
We have so many reports it's hard to keep up – thanks so much to our local heroes! The Torrington Farmers Hunt is in the Deepmoor tip area and has been seen on the Metherills' land, towards Peagram, and around the entrance to Ward Farm. There are only about 8 riders and, in the words of one of our friends, 'lots of car dickheads and quads'.
15th February
HUNT ALERT!
The Torrington Farmers Hunt has been reported leaving the kennels in a lorry. Another local person tells us they are now in Horwood, due to meet at West Barton farm. Thanks so much for your intel – keep it coming, and keep your pets and livestock safe if you're in the Horwood area.
14th February – From local Hunt Sabs
Stevenstone Hunt kill fox 11.2.23
On Saturday the Stevenstone Foxhounds under the direction of huntsman Archie Clifton-Brown killed a young vixen near Woolsery. Sabs had been with the hunt all day since they left their meet at Sessacott and several foxes were helped to safety in that time.
In the afternoon the hunt chased a fox to ground in a large pile of sheet metal rubbish on the edge of a small copse. Sabs arrived in time to move hounds on and prevent a digout. However, the hunt returned to this spot about thirty minutes later and bolted the fox. She was chased again for about twenty minutes, during which time our various foot teams did everything they could to get in between fox and hounds and stop the chase. However, hounds caught up with her and overwhelmed her in a ditch in the valley. She was mauled to death by the pack. As sabs were waiting on the road with the fox's body, a terrierman rode past on a quadbike and shouted "one less for us to kill".
11th February – From local Hunt Sabs 
We're really sorry to report that the Stevenstone Hunt have just killed a vixen in front of sabs near Woolsery after chasing her to ground in a pile of rubbish, bolting her and chasing her again. Sabs did everything they could to try and save her but the hunt were determined for a kill.
9th February
THE STEVENSTONE HUNT AND TORRINGTON FARMERS HUNT DOG POOP SCANDAL COULD GET THEM IN DEEP S**T…
Public Space Protection Orders on Dog Fouling protect people and wildlife from toxic dog poo. In Cornwall it's straight to Magistrates Court for a second offence with a fine of £1000 upwards. You can also pick up a £1000 fine in North Devon, along with £80 fixed penalties.
We have a video of the Stevenstone Hunt letting one of their hounds crap on the road – just before making their way onto the Tarka Trail where they are NOT allowed in the first place. They're also notorious for leaving piles of dog crap all over the place down near the river, on the little 'beach' enjoyed by local people.
Apparently the village of St Giles, where the Torrington Farmers Hunt kennels are located, is constantly swimming in dog crap left by the hunt's hounds. It must be horrible to live with that level of filth. When the TFH hounds invaded private property in 2022 they left dog crap in someone's garden for them to clear up. It was not like normal dog poo, it was revolting. Poor dogs. That's what happens when you're not fed well or looked after properly. Could a PSPO be the answer to the toxic dog waste left all over the place by both local hunts?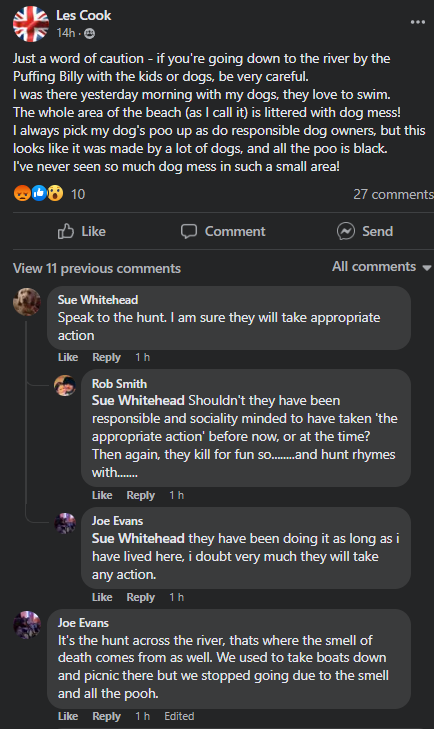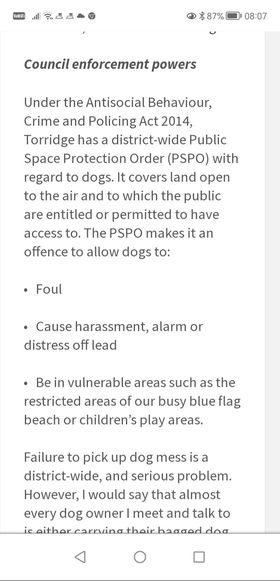 8th February
DOES THE LANDOWNER KNOW?
Last Wednesday the Torrington Farmers Hunt was spotted by several local people and drivers in a copse owned by the Bellew family, just off the Gammaton Road. There were only  a few horses and no dogs. Locals could hear people making the 'brrr' sound that means they are trying to drive out a fox, possibly to catch and bag to let loose later. Does the landowner know wildlife crime takes place on their land? This isn't the first time the TFH members have been heard brr-ing on Bellew land. It looks like it's a popular place for cubbing and potentially bagging adult foxes, both of which are illegal.
2nd February
THE TORRINGTON FARMERS HUNT BREAKS GOVERNMENT RESTRICTIONS BY HUNTING ON PUBLIC ACCESS LAND
Thanks so much to the clever local person who spotted that the land the TFH hunts on so regularly at Hatchmoor is actually Open Access Land.  A friend of ours has written to Devon County Council, Torridge District Council and Natural England about it. You can do the same if you want to add your voice.
They frequently hunt on this local Public Access Land.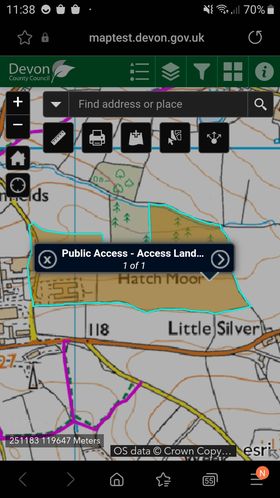 Here are the rules for Public Access Land, which the Torrington Farmers Hunt regularly hunts foxes on.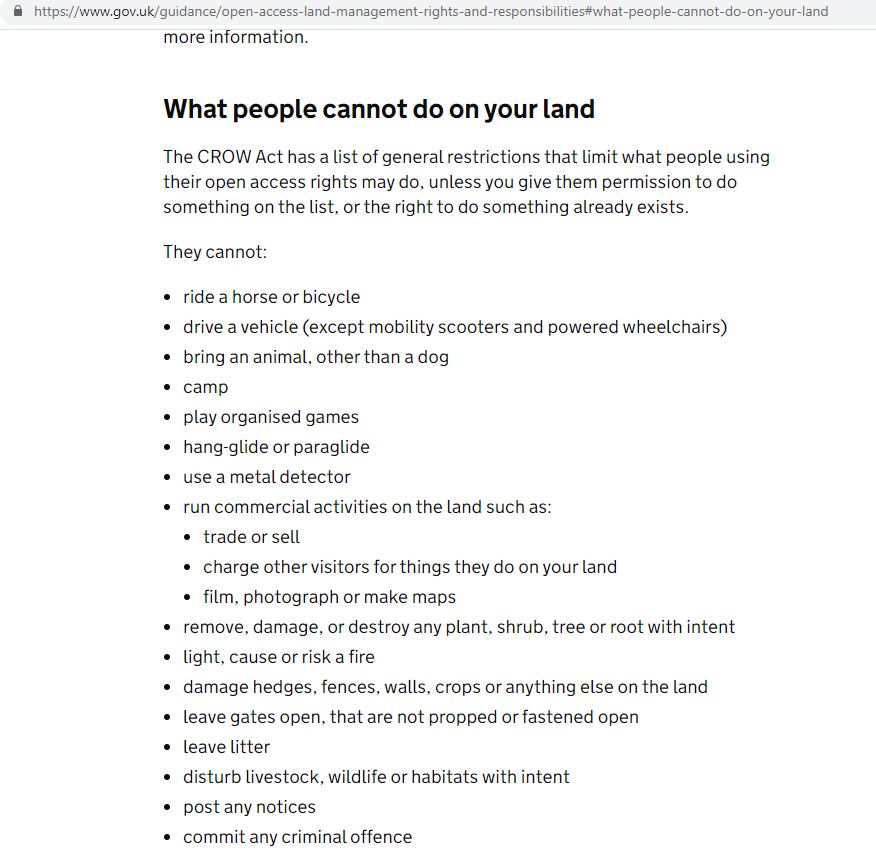 2nd February
JUST SO THEY KNOW THEY'RE BEING SEEN…
We had several reports about hunt activity at Buckland Filleigh near Shebbear yesterday, with a quad bike and 3 horse boxes. Probably the Stevenstone Hunt. Interestingly, they were seen packing up at about 3.30pm. Huge thanks to the people who reported them.
11th January
On Wednesday 11th January we had multiple reports about hounds in full cry in and around Squirrel Wood in St Giles in the Wood, followed into the wood by terriermen and quads. The hounds were in full cry for at least 45 minutes, rioting out of control. The noise was unbelievable. They had clearly found a fox and it had likely gone to ground. Later we had reports they were definitely digging out a fox. The noise was unmistakeable to anyone who knows anything about hunting. Squirrel Wood is so overgrown it isn't accessible – so there was no way they'd laid a trail.
Several people called the police on 999. It was not a good experience. One 999 call handler asked members of the public if they could go and talk to the hunters, confronting them in fading light as the over-excited dogs went crazy. Really?! Callers were also asked by 999 handlers how they knew hunt crime was taking place. It was crystal clear what was going on. Anyone who understands simple hound and hunt calls knows the score.
The overall feeling from the public was the call handlers were not interested. One 999 call handler told a member of the public to stop shouting or they'd hang up. The person was actually shouting to be heard over the torrential rain and fifty mile an hour winds. Two different 999 call handlers were described as 'apathetic'. Multiple people called 101 as well but nothing happened. One person called 999 and the handler basically hung upon them. Members of the public contacted a local landowner whose private land the hunt had invaded. The landowner was not happy because they don't allow hunting on their land.
A police patrol car finally turned up at about 6pm and drove around a bit – hours too late. Apparently the hunt has told people their hounds had 'bolted' during 'exercise' in the storm, and couldn't be brought back under control. This was clearly a lie, believed by nobody. But that's what they'll tell the police. Local people found the whole experience very distressing. They are furious.
People tell us the Torrington Farmers Hunt is loathed in the wider community, despite their mistaken opinion that they have a lot of local support. Huge thanks to all the ordinary members of the public who messaged us on the day and afterwards. It must have been horrible for you. You are heroes. Thank you for your courage and kindness in the face of the TFH's cowardice and cruelty.
7th January – From local Hunt Sabs
Stevenstone Hunt 7.1.23
This Saturday we sabbed the Stevenstone Hunt in former Tetcott Hunt country again. They unboxed at Five Lanes Cross and then went to Little Derworthy to eat sausage rolls. The quadbike with the registration TRAIL was spotted a few times throughout the day, usually on the road miles from the hunt who were seen pursuing multiple foxes (and some deer) during the day.
They started off in the moor near Barton Cottage which terrierman Alex Wass attempted to evict sabs from. They looped around Broomball Wood and out into Gardenclose Wood. Hounds got onto a fox here, which was seen just a few feet in front of the lead hound. The fox was running strong and with help from sabs rating and calling hounds we are sure this one got away, as it was seen heading north while the hunt went back west towards Sanders Cross.
The hunt spent a lot of time in the valley south of here and sabs saw several foxes running from the hunt. We were able to cover their trails, but eventually with hounds scattered across the boggy valley they chased a fox to ground in a bramble patch. A Stevenstone terrierman was there watching and making no effort to do anything as sabs cleared the hounds and sent them back to huntsman.
The hunt then went south past Youlden Farm towards Hill Copse and drew the boggy valleys in this area. No foxes but hare and at least 4 deer were flushed. Hounds were rated off by sabs as the hunt riders did a predictably poor job of it. They never practice rating because why would they ever want to call the hounds off?
With sabs on him all day, huntsman Archibald Clifton-Brown decided to call it a day early and drag himself and his riders back up to Five Lanes Cross where they packed up.
2nd January
TORRINGTON FARMERS HUNT MET AT THE HUNTERS INN – NEWTON TRACEY – NOW IN THE WEBBERY / GUSCOTT AREA. KEEP YOUR PETS SAFE AND TAKE SOME PICS OR VIDEO IF YOU CAN.
2nd January
TORRINGTON FARMERS HUNT LOCATION ALERT UPDATE!
We just had reports of the hunt at Alverdiscott way, lots of spectators on quad bikes and the hunt clearly seen out over the fields.
26th December 2022
TORRINGTON FARMERS HUNT TORMENTING WILDLIFE AT HATCHMOOR RIGHT NOW.
26th December 2022
TORRINGTON HUNTSMAN BREAKS WINDSCREEN AND CAUSES DISTRESS
Witnesses are being sought after a hunter whipped the windscreen of a vehicle at Leightywater near Torrington on Boxing Day. He cracked the vehicle windscreen and caused a great deal of distress to the occupants – including a lady who is 7 months pregnant.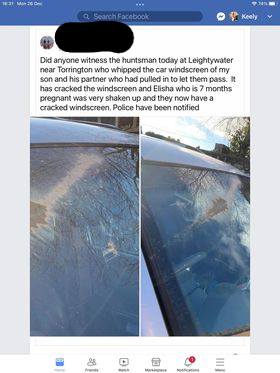 It's interesting to see the Boxing Day meet scandal arising once more for 2022. As we have proved, there is not enough room in the town square for horses and riders to keep a safe distance from pedestrians. The hunt should not have been given permission to use the space on Boxing Day. Please note the facts, Devon County Council, for the hunt's TTRO for Boxing Day 2023. As taxpayers, we deserve better from you.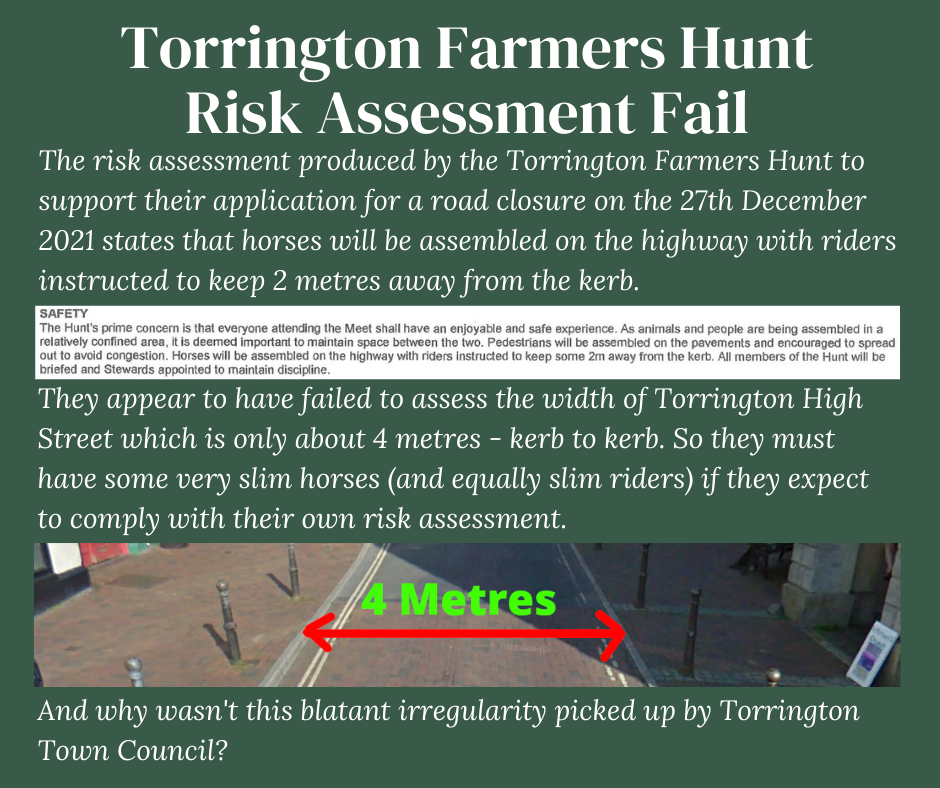 And these two images speak a thousand words…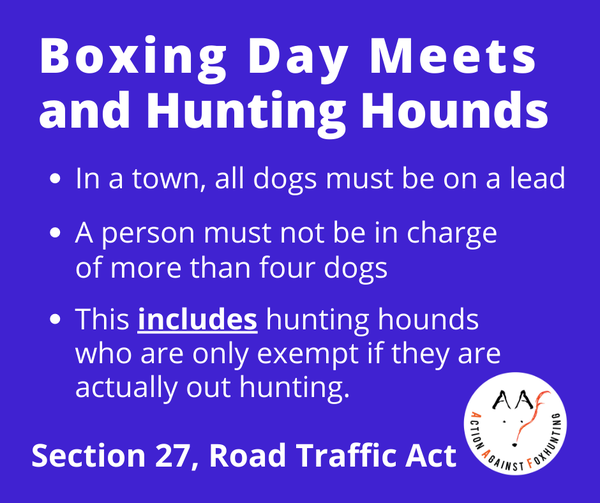 24th December – From local Hunt Sabs 
Stevenstone Hunt Christmas Eve 2022
Today we sabbed the Christmas Eve meet of the Stevenstone Hunt in former Tetcott Hunt country, at the aptly named Winterlands Farm on the edge of Holsworthy. The day was hosted by landowner and former Tetcott Master Diana Stevens. She had woven festive tinsel into her horse's mane but for a major Christmas meet the turnout was poor, with just a handful of riders and the same number of car support.
The hunt took off into fields to the south and hounds immediately went into cry. They were in cry on and off for most of the day but our foot teams stuck with them throughout, stopping hounds whenever they found scent, and we kept an eye via the drone as well.
They hunted the River Deer valley between Westdown Bungalow and France and carried on to the south from there. A fox was hunted to ground in a badger sett and sabs caught up with hounds as they were marking the sett. A few drops of blood were found at the entrance to the sett, so it's possible the fox was bitten by hounds as it entered the sett. With riders watching from a hill and terriermen Alex Wass and Mickey Hibberd hovering, we decided to leave some sabs at the sett to prevent a digout.
The hunt drew the scrub on Affaland Moor and carried on south through Affaland wood where hounds spent some time in cry. Sabs kept lifting hounds' heads, much to huntsman Archie Clifton-Brown's frustration. Another fox was seen and their scent covered with citronella, and hounds also flushed lots of deer from the woods.
After several hours of trying and failing to get away from sabs, the hunt slowly headed back to the meet and packed up.
5th December 
REPORTS OF ILLEGAL QUADS ON SCHOOL LANE
4th December – From local Hunt Sabs
Stevenstone Hunt 3.11.22
Yesterday we paid a surprise visit to the Stevenstone, who were hunting outside their own 'country' in what was formerly Tetcott Hunt country. Tetcott are the hunt that disbanded earlier this year. Despite Tetcott country having become vacant, wildlife in the area is not safe, as ex-Tetcott masters Diana Stevens and Andrew Youlden have been arranging for neighbouring packs to hunt some of their old meets.
If Stevenstone had known in advance that any away day in Tetcott country is likely to attract sabs, perhaps they would have thought twice about coming. Although as it was, it seems not many made the trip anyway. Despite perfect weather and scenting conditions, just six riders showed up for the occasion.
The meet was at Marhamchurch and the hunt spent the day drawing various valleys: north of the village, east between Steart, Great Beer and Hobbacott (including land they'd been banned from entering), and then north in the long valley between the Old Canal and Brays Hill.
True to form, Di Stevens gave us one of her usually impressive lectures about trail-hunting (she embellishes these more than anyone else we know) and implored us to allow hunt staff to do their thing and to "praise them for doing the right thing". If it wasn't for the presence of terriermen on quadbikes, equipped with terriers and spades, some naive onlookers might actually believe Di's stories. Alex Wass (now terrierman for the Stevenstone) and his sidekick George Bailey, along with several other terriermen, followed the hunt all day, getting off their quads occasionally to check locations where hounds were making noise, looking for digout opportunities. As is the case for many terrierman types, Bailey also gets his kicks out of attacking women, having been convicted of ABH just two years ago, after he smashed a fish tank over his girlfriend's head in a fit of rage.
Each of our hunts has its own merry band of violent criminals. Stevenstone huntsman Archie Clifton-Brown himself has a colourful history, having been convicted of assault a few years ago following an incident in which he assaulted a sab who was trying to retrieve the body of an illegally-killed fox at the Thurlow Hunt. Unbelievably, and even though Archie's colleague at the time was convicted of illegal hunting for that incident, Archie managed to get his assault conviction overturned on appeal, claiming that he was using 'reasonable force' to stop the landowner's 'property' (yes, that's right, the illegally-killed fox) from being 'stolen' by sabs.
And even if you didn't know any of the above, there was plenty of other evidence undermining the trail-hunting ruse throughout the day yesterday: the complete absence of any evidence of trails being laid, the fact that Archie kept casting hounds into coverts ideal for foxes (kale fields, gorse, bramble patches) – often far too dense for any human to have laid a 'trail', and the behaviour of hunt members whenever a fox was seen, including hollering and pointing out the direction the fox had gone.
Several foxes were chased by hounds at this meet, along with several deer. Sabs were on hand to cover scent, rate hounds and gather the pack on numerous occasions. Our runner team kept with the pack all day, ensuring there were no kills, while others were strategically positioned to intercept hounds at crucial moments and keep an eye on their movements via our drone. At one point, hounds chased a fox out of a kale field, across a valley and up a steep slope through a dense patch of gorse, returning into the valley to be met by our foot sabs who stopped them in their tracks, buying the fox some crucial time to get away. Hounds responded beautifully to our horn calls and were quickly gathered up in a neighbouring field. Archie, who spent most of the day on foot with the hounds, had shocking hound control. They just weren't interested in his calls for the most part. Perhaps they care as little for him as he does for them. Sadly several hounds were seen with injuries. One was limping badly at the end.
If the support and encouragement we received from locals throughout the day is anything to go by, it's fair to say hunts are definitely not welcome in the Marhamchurch area! Rest assured if they return, we will know about it, and we'll be there.
2nd December
TROUBLE AT THE TORRINGTON FARMERS HUNT KENNELS
A friend sent us an image of a section of the Minutes from the November 9th St Giles in the Wood Parish Council meeting. The Parish Council hasn't published the Minutes online yet, even though the meeting took place weeks ago. Why not? Is someone on the Parish Council trying to keep the ongoing TFH kennels scandal quiet? Are any of the Councillors hunters, hunt supporters, or landowners who allow hunt crime on their land? If you know, message us.
Note how they think it's acceptable to 'cull' hounds – in other words kill them – instead of housing them properly, caring for them properly, feeding them properly, and treating them with the respect and kindness every living creature deserves. Maybe then, they wouldn't bark so much.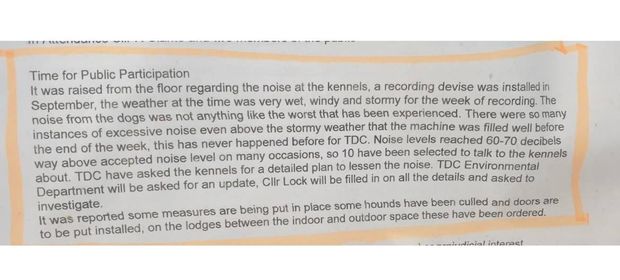 19th November
HUNT ALERT – TORRINGTON FARMERS HUNT CURRENTLY BETWEEN TORRINGTON AND HIGH BULLEN
The Torrington Farmers Wildlife Killing Gang are reported to be 'all over the road' between Torrington and High Bullen. Thanks to locals for the reports.
16th November
TORRINGTON FARMERS HUNT ARE AT IT AGAIN TODAY. KEEP YOUR PETS SAFE AND IF YOU SEE THEM – TRY TO GET SOME PICS OR VIDEO.
11th November
ON THURSDAY 10TH NOVEMBER A HUNT INVADED EASTACOMBE… AND LOCAL PEOPLE WERE *NOT* HAPPY!
We've done some investigation and it can't be anyone but the Torrington Farmers Hunt – unless you know different? If it was them it raises some interesting questions:
What was the TFH doing over in Eastacombe? Are they struggling to find places to hunt? Have they been told to stay off the land where they usually hunt?
If they were engaging in mythical 'trail hunting', how come the dogs rampaged, out of control, through people's private property?
If it was the TFH, why were they out hunting on a Thursday when their traditional days are Wednesday and Saturday? Are they trying to hide their crimes?
Whose land did they meet on, and whose land around Eastacombe do they have permission to break the law on?
Here's a big hello to the good people of Eastacombe, who gave the hunters what for. And a big thank you to the people who got in touch to let us know what was happening.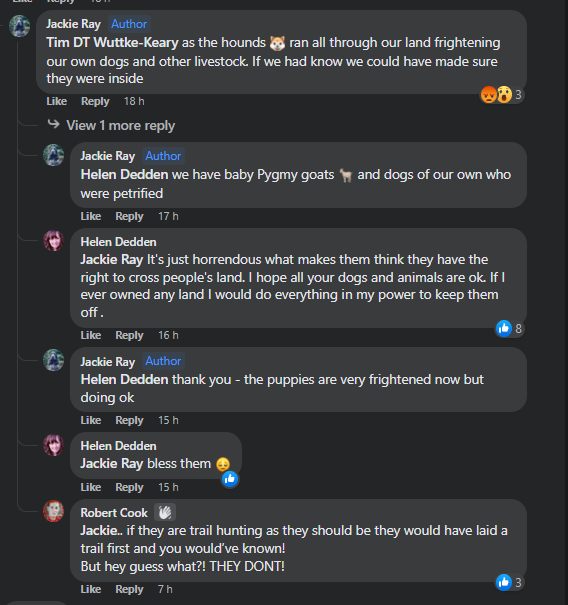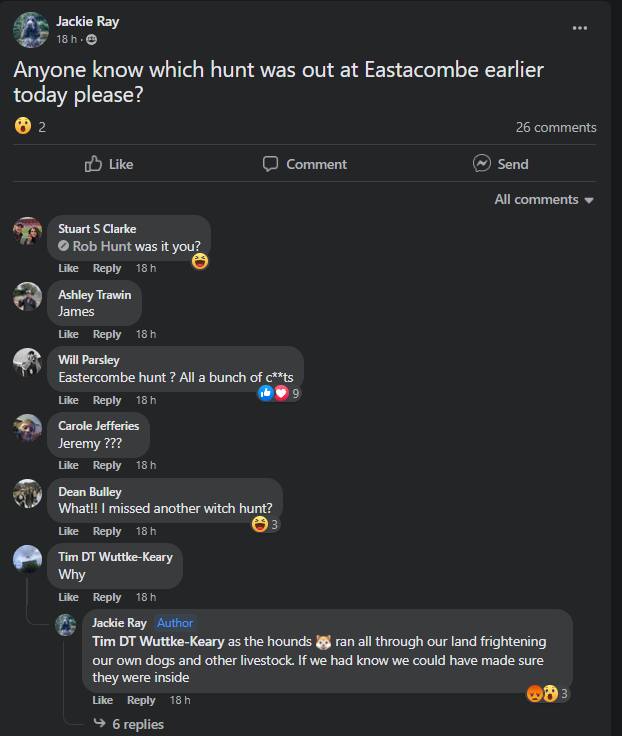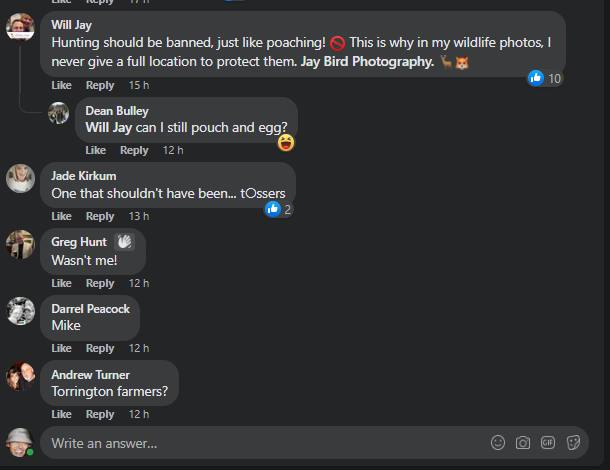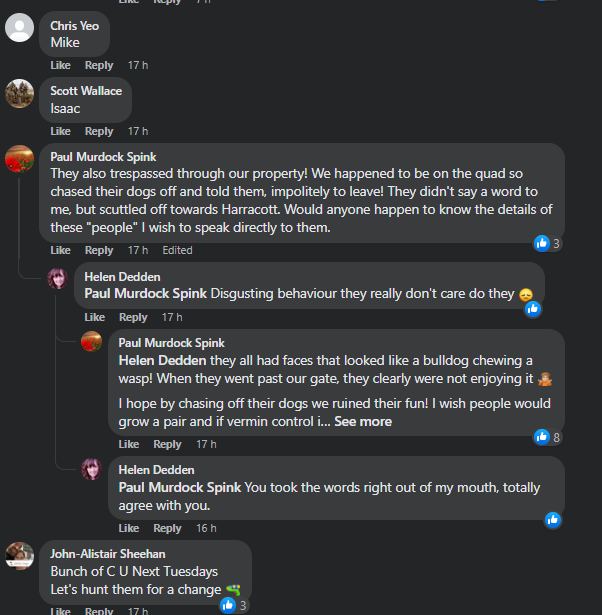 25th October – From local Hunt Sabs
Torrington Farmers Hunt 8.10.22
We sabbed Torrington Farmers' cubbing' meet at Webbery Barton in Alverdiscott. They spent their time riding in circles around the electricity substation and Haddacott Moor, occasionally casting hounds out but mostly keeping them close. Various foot teams kept an eye on their movements and we monitored them from the sky via our drone as well. It was all a bit much for the hunt and they packed up a few short hours later. Back at the meet they let their frustration show with a lot of pushing and shoving and other childish behaviour directed at our sabs.
12th October
WE HAVE NUMEROUS REPORTS OF THE TORRINGTON FARMERS HUNT OUT OVER HUNTSHAW/HUNTSHAW WOOD WAY.
3rd September – From local Hunt sabs
Torrington Farmers and Stevenstone 3.9.22
Not a bad morning for us and for the foxes of north Devon. We stopped both Stevenstone Hunt and Torrington Farmers Hunt from cubbing this morning. The Torrington Farmers took one look at sabs and decided to exercise hounds from their kennels instead of heading to their planned meet. Meanwhile we had another team monitoring the Stevenstone Hunt. They left the kennels at 5.30am with hounds in a trailer but then also changed their minds about hunting in the presence of sabs and headed back to the kennels.
1st September – From local Hunt Sabs
Torrington Farmers 1.9.22
On Thursday some of our sabs were up early checking badger setts, as the cull is in full swing across Devon now. While we were out, we received several tip-offs from locals that the Torrington Farmers Hunt were causing havoc again in the area around their kennels. Hounds had been seen actively hunting a fox.
When we arrived, the hunt were 'holding up' a maize field right next to the road between St Giles in the Wood and Buckgrove Cottages. 'Holding up' involves hunt staff and supporters surrounding a covert where a fox might reside (e.g. a dense crop field, or a small woodland). They will usually carry sticks or whips which they use to make noise on the edge of the covert, to keep both hounds and fox from leaving. The aim is to give the hounds time to find the fox and kill it.
We immediately made our presence known and deployed a drone over the maize field. This caused the huntsman to gather his hounds and make his way back to the kennels. Job done.
Although we can't always respond immediately to tip-offs like this, it's always well worth letting us know as soon as you spot a hunt in your area. We're very busy at the moment, with fox cub hunting and badger culling taking place most days of the week all over Devon.
27th August – From local Hunt Sabs
Torrington Farmers 27.8.22
We received a tipoff that the Torrington Farmers would be cubbing near their kennels this morning, so we thought we'd show up and put a quick stop to that! Hounds were hunted through a wooded valley with terriermen and other hunt support surrounding the covert to scare back any foxes that might break. As soon as sabs were spotted, the various hunt support vehicles scattered and hunt staff reverted to exercising the hounds on foot in several loops around the village.
August 2022
THE STEVENSTONE AND TORRINGTON FARMERS HUNT WILL SOON BE 'CUBBING'.
They also call it 'autumn hunting'. And it is utterly and totally vile, as well as illegal. The hunt criminals capture little fox cubs. Then they throw the living cubs they have caught to their hounds, to train the dogs to chase and kill foxes. Otherwise, the hounds would not chase and kill foxes – they have to be specially trained to do it.
Images to support this report and add context
Scroll through these for more insight into local fox hunt activity, crimes, torts, and regulation-breaking.
We're always hearing about fox hounds and other hunting dogs getting lost
Here are just a few reports from last season out of many.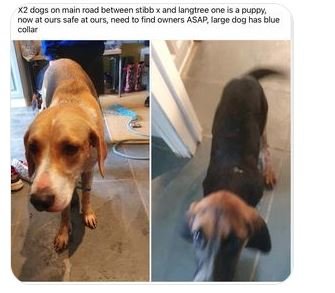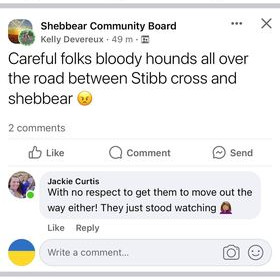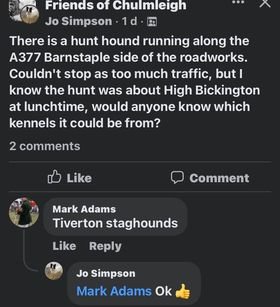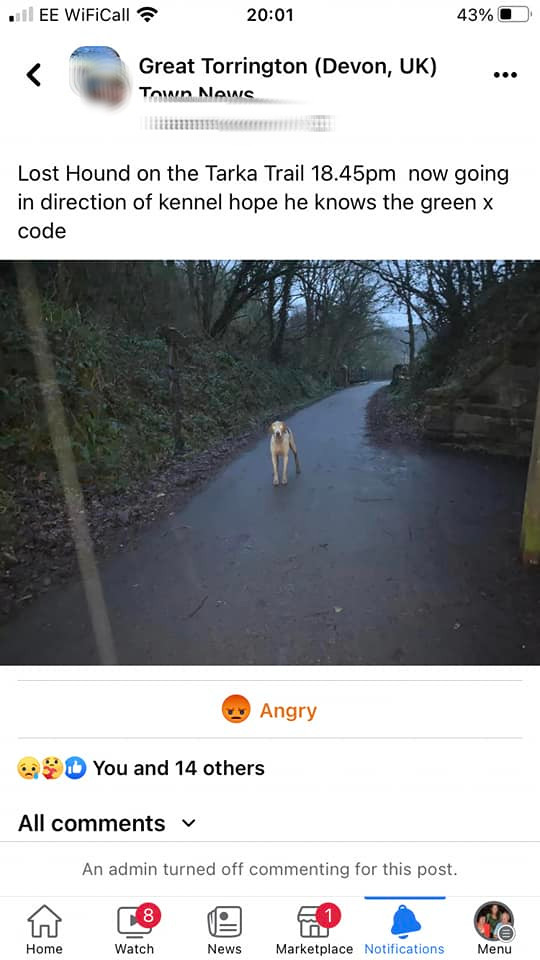 Fox hunt activity on the Tarka Trail, dog shit, and lethal hound exercising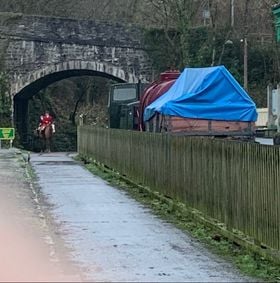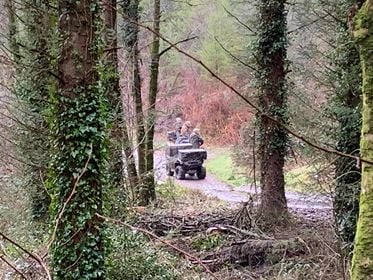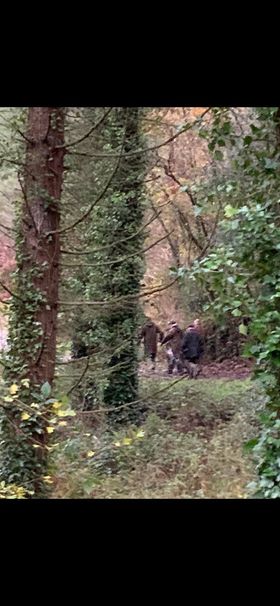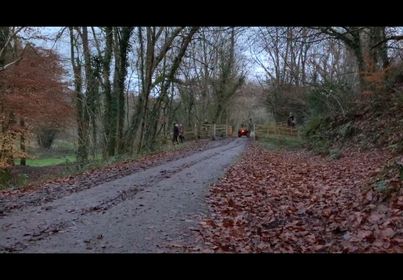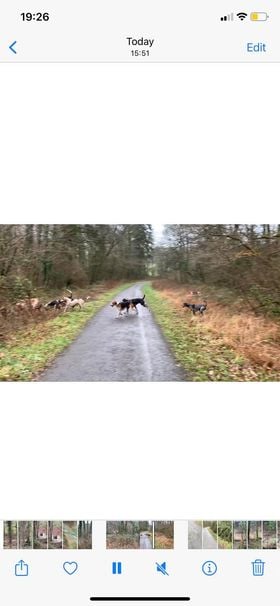 Here's a playlist of short videos, some of hunt trespass on the Tarka Trail, including a Stevenstone Hunt member leaving hound poo on the road. You'll also see hunt staff exercising hounds on a dangerous 'A' road, and hunt supporters blocking a blind bend-filled road with their vehicles, again lethally dangerous.

A reminder that hunters can't claim on their insurance
Fox hunting is illegal. Hunt members can't claim on their insurance because insurance doesn't cover criminal acts. It's one of the basic principles of insurance.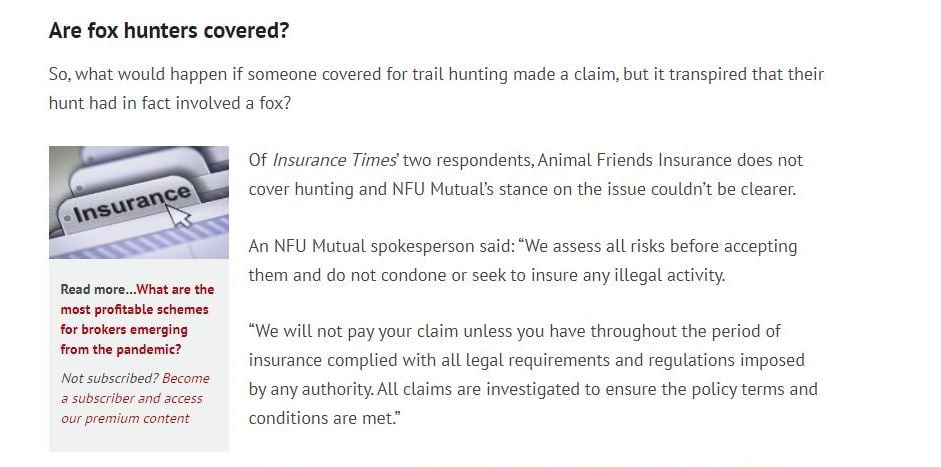 Pony club revelations
A reminder not to take your child to a Pony Club. They're closely linked with the UK's criminal hunting fraternity, as kindly confirmed by one local fox hunt supporter who runs a wedding venue in Beaford.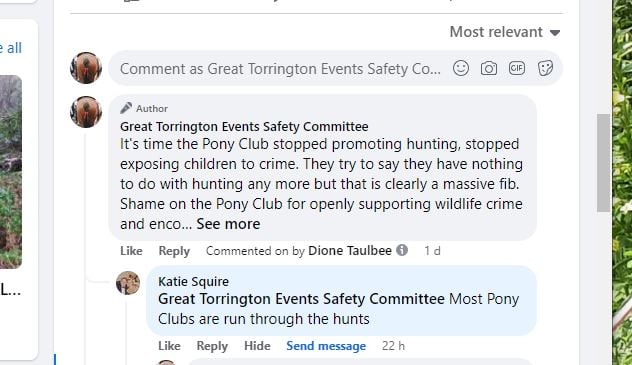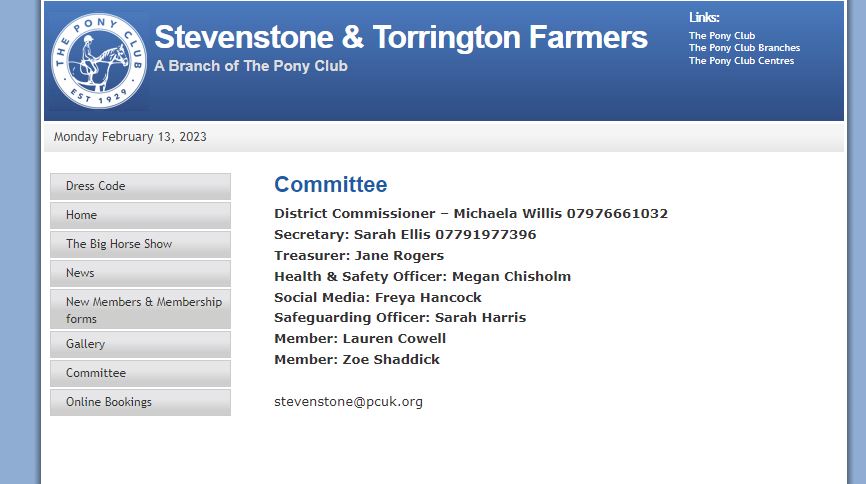 Local hunt friendly people and businesses to avoid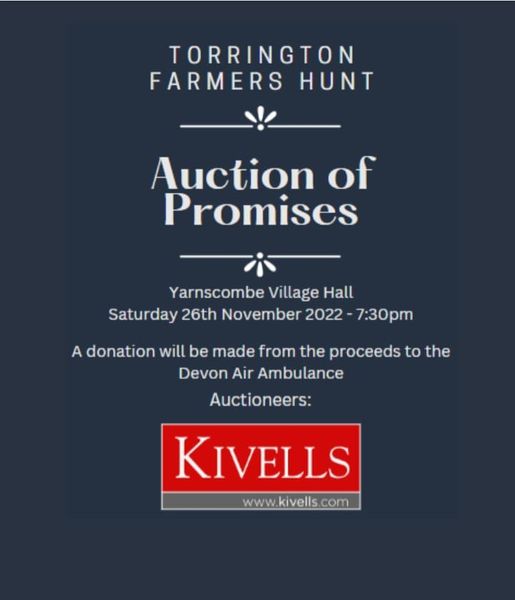 A friend asked Devon Air Ambulance to think again about accepting donations from organised criminals. They said they would put the wisdom of hunt donations back on their agenda.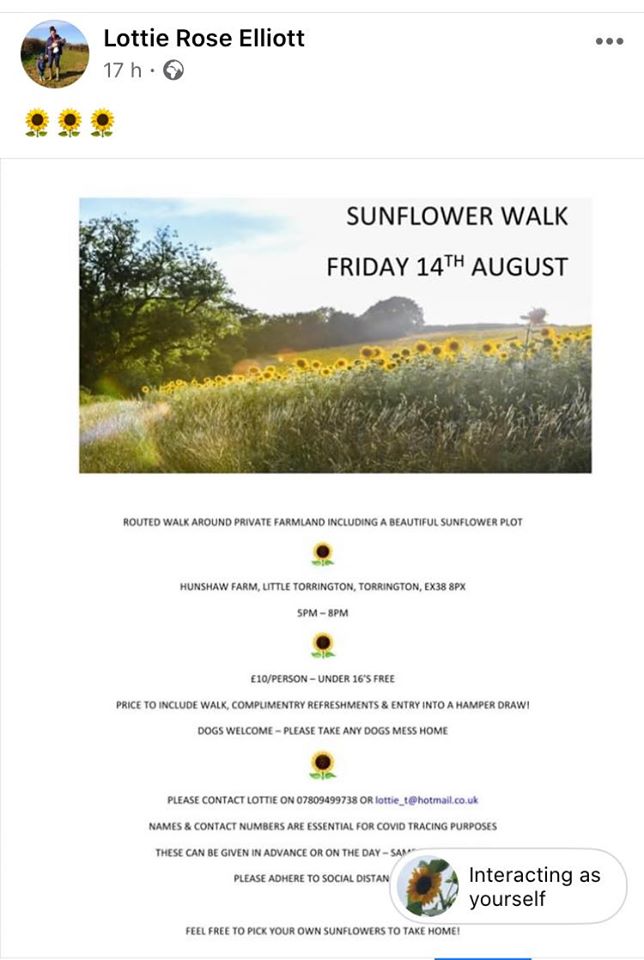 These people donated prizes to raise fund for the Torrington Farmers Hunt.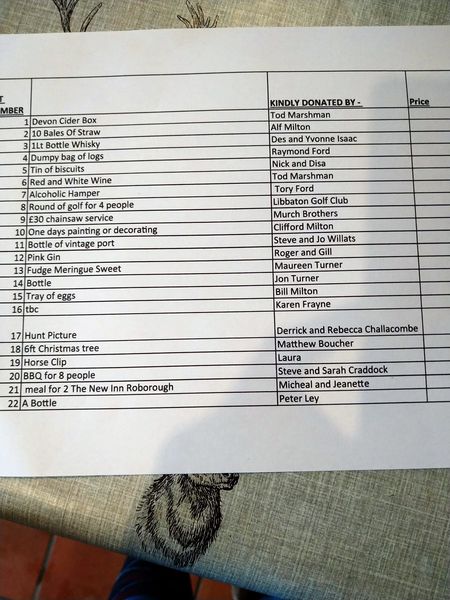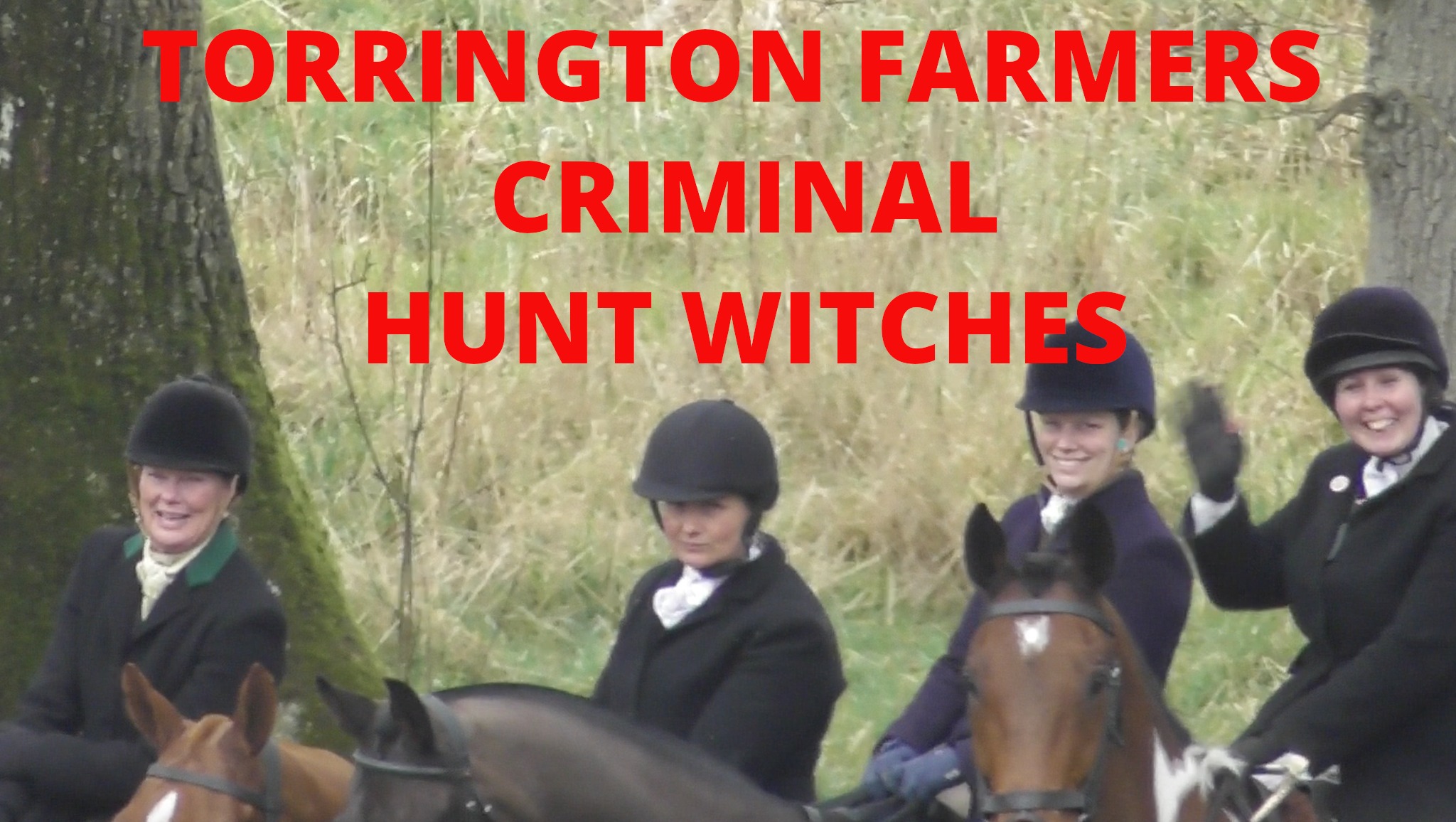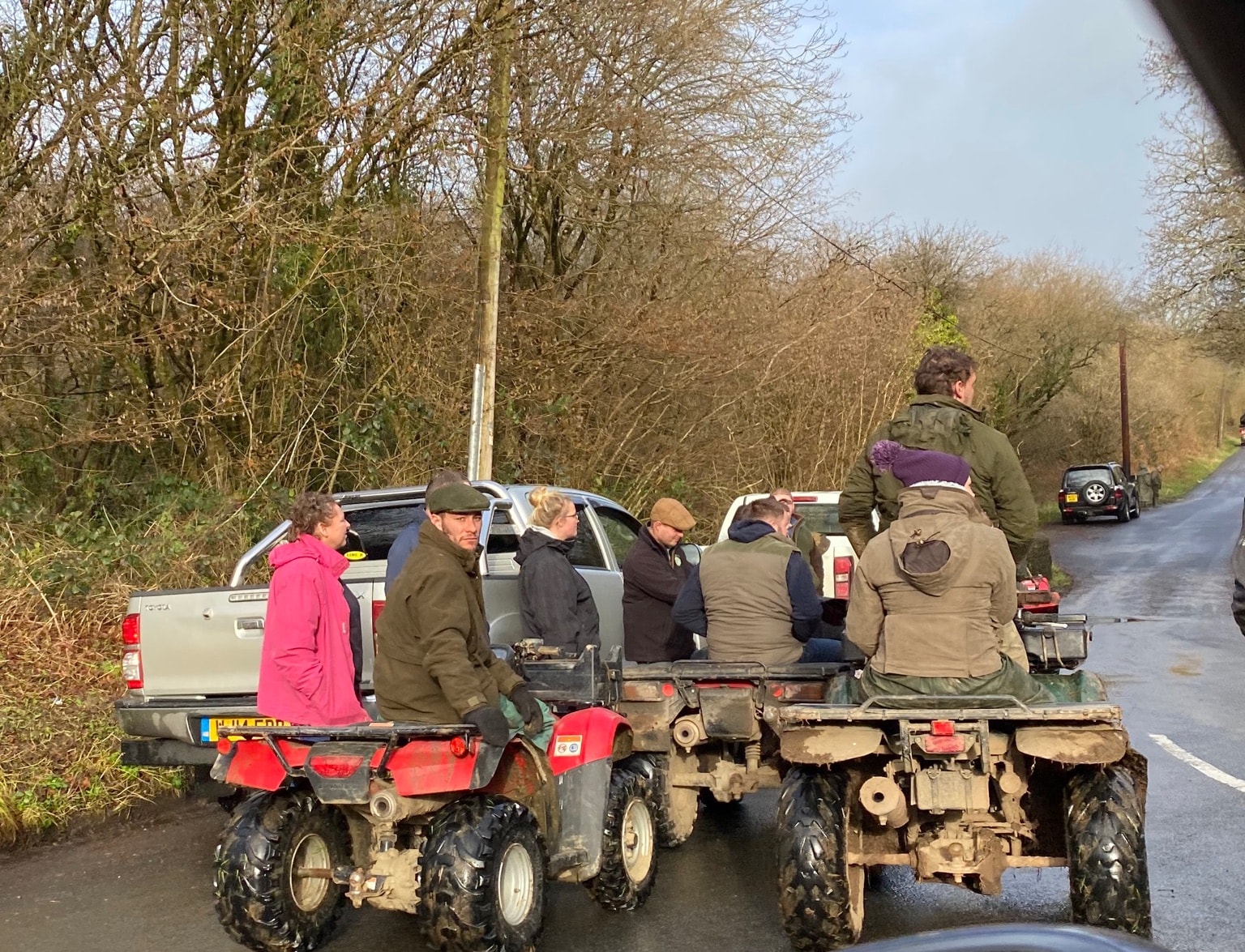 Above and below: no plates. The top image also shows them blocking the road, another everyday sight in our area when either hunt is out.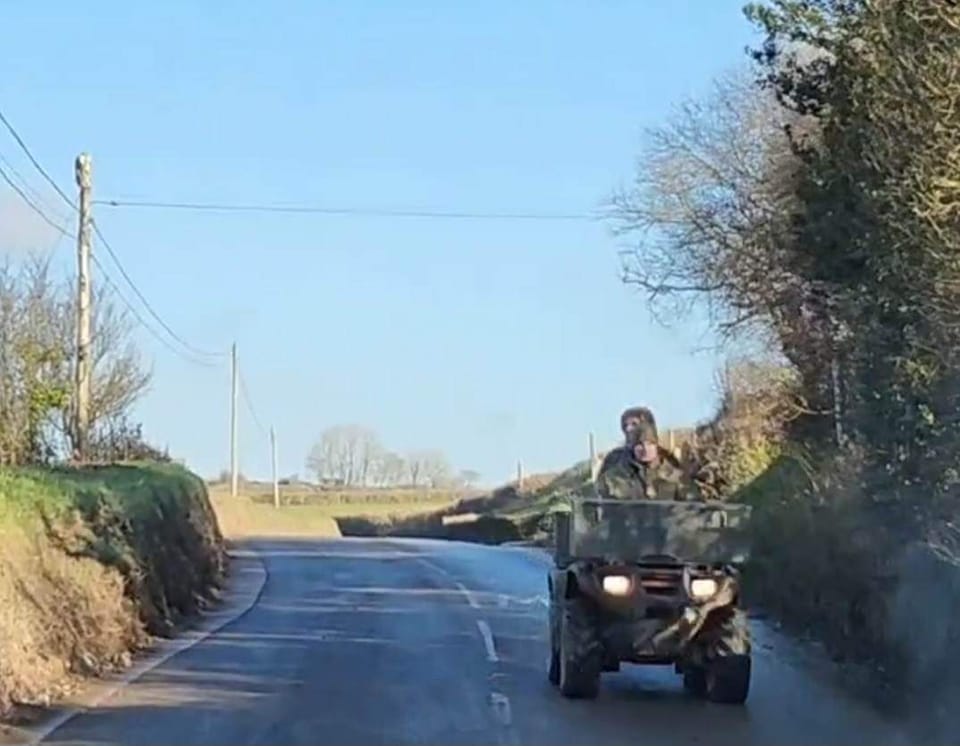 About Councillor James Morrish at Devon County Council
Councillor James Morrish didn't declare his Chairmanship of the Torrington Farmers Hunt until he was asked to. One of our friends has complained officially to the council about appointing a councillor who is chairman of a gang of organised criminals.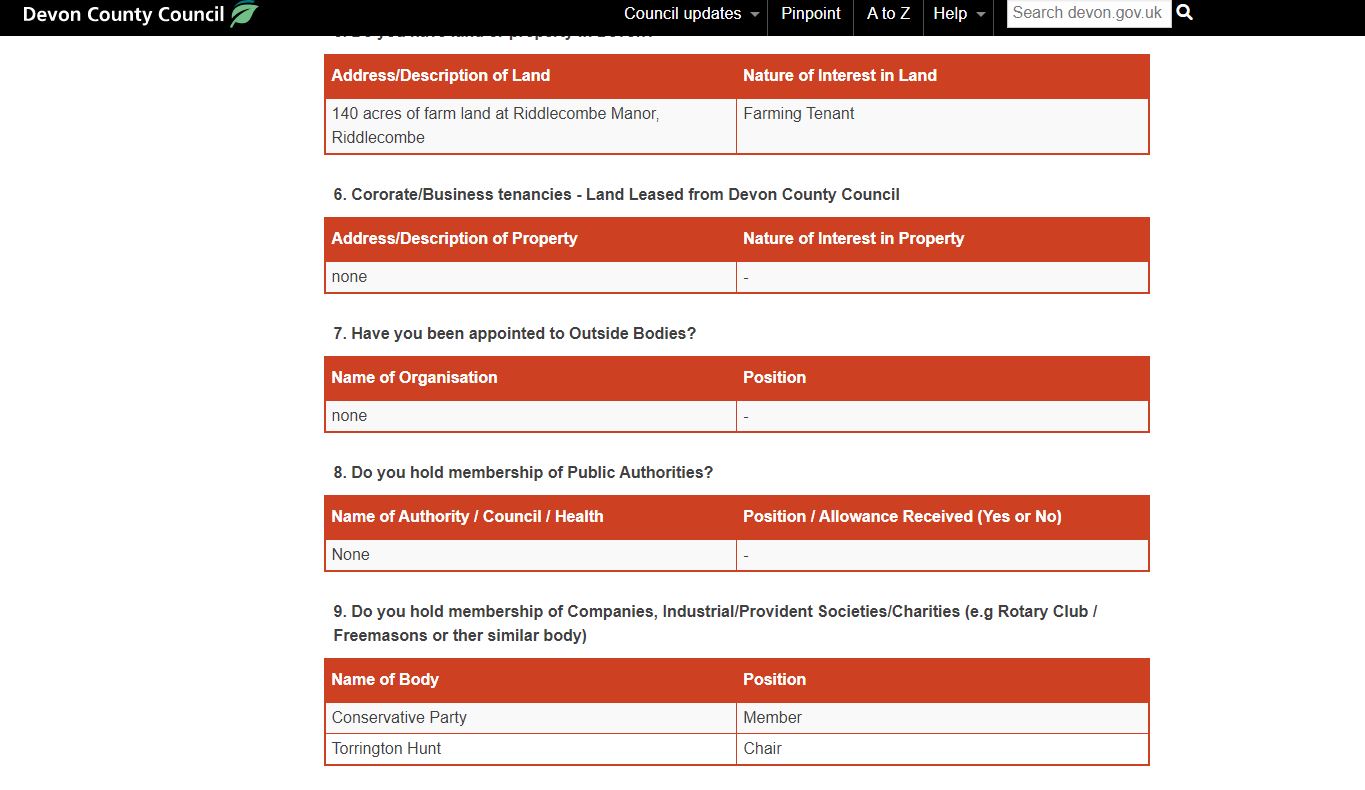 Nobody loves the Torrington Farmers Hunt
They failed to sell a day out hunting for two, even at a bargain price.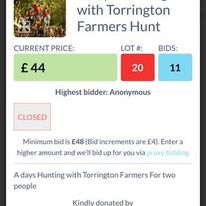 Which supports the latest poll…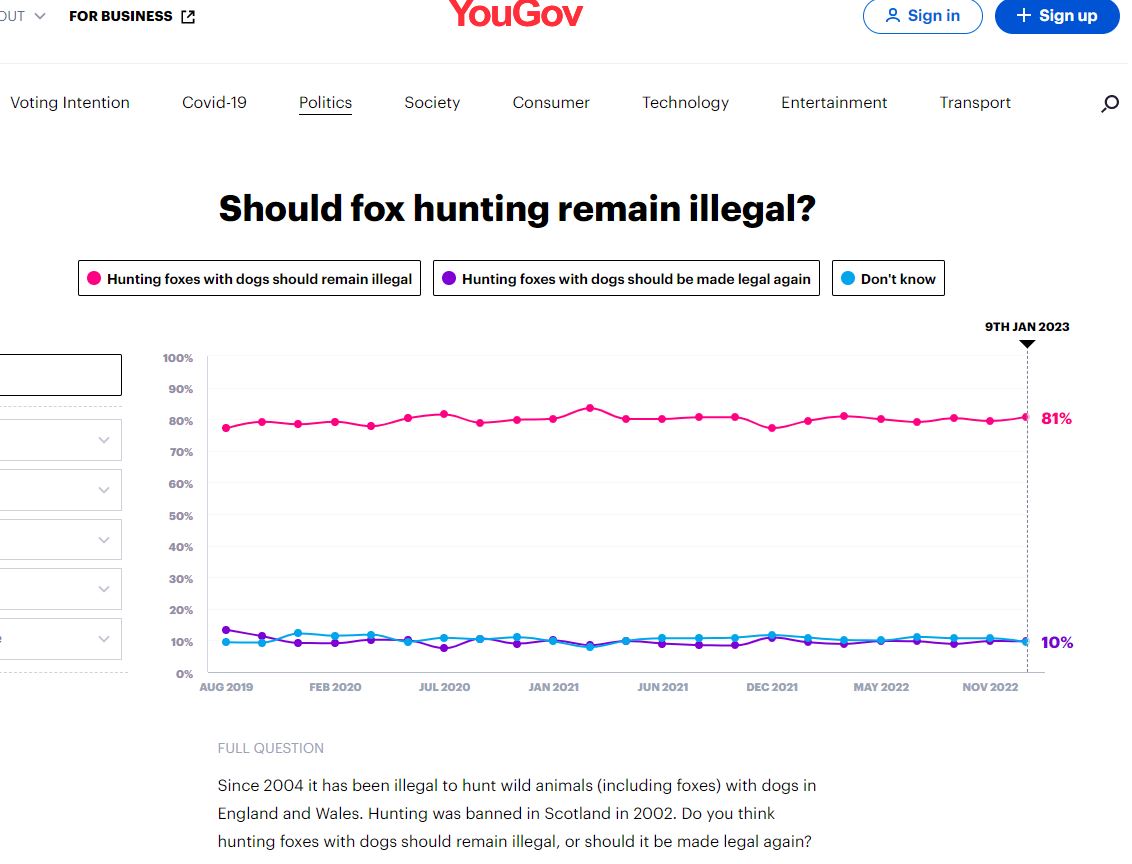 Scaring our livestock, slaughtering our wildlife
The top image shows terrified sheep, the second a fox hung on a post near Great Torrington.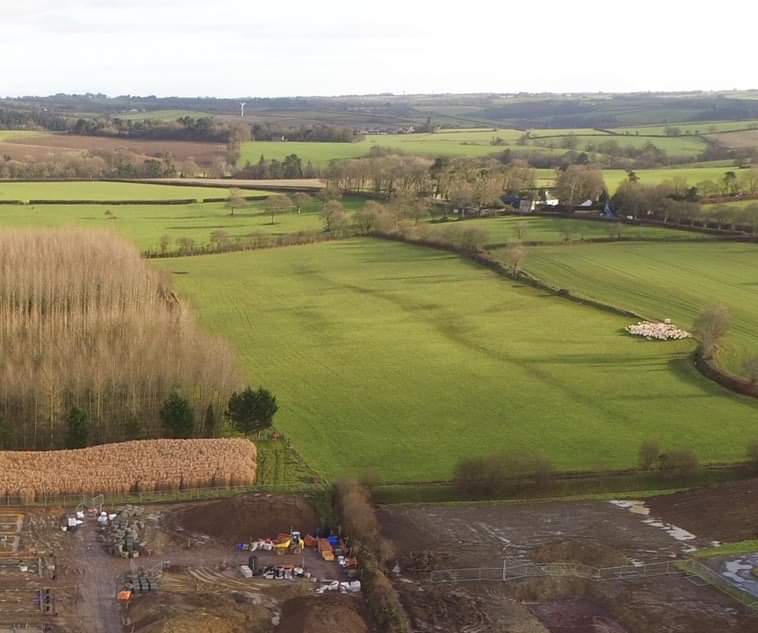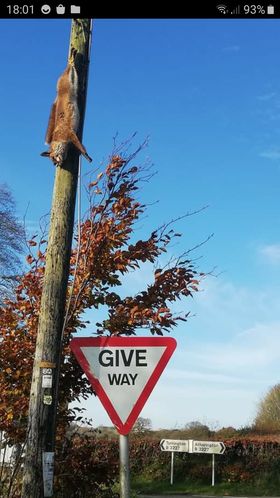 Torrington Town Council remains passive
Apart from one heroic member, the town council is still fannying around instead of helping the 90% of local people who hate hunt crime, want it stopped, and want the council to get on the side of wildlife, not wildlife crime.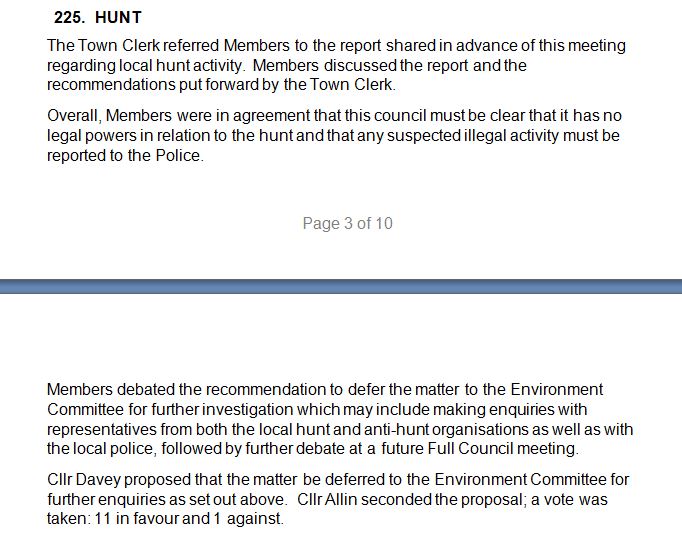 And this

They hate us – but we're still here
Last of all, an image proving we're having a noticeable impact on fox hunt crime. Obviously we are thrilled 😉
We'll be back with another report after the 2023-24 season. In the meantime thank you so much to everyone who has shared hunt activity with us. You are heroes.
@DevonCountyCouncil
@TorringtonTownCouncil
@TorridgeDistrict Council