The 2019 Torrington Farmers Hunt Boxing Day meet in the centre of Great Torrington was a remarkable event for one key reason. The TFH had actually submitted details of their event and they even applied to Devon County Highways for road closure. Remarkable! Previously they have never formally applied for road closure and have never at any time in the past submitted details of their event to the local authorities (verified via FOI requests).
Freedom of Information Requests
Freedom of information requests provided some details of the traffic management plan proposed by the TFH for this event.

The application included the following statement regarding the submission of a 'first draft risk assessment' and that a revision was in progress.

Freedom of information requests for full details of their submission, including their risk assessments, were refused by Torridge District Council on the grounds that:
"the information is exempt from disclosure under Section 38 (Health & Safety) of the Freedom of Information Act as disclosure would be likely to endanger the physical or mental health or the safety of an individual or group."
So Torridge District Council have stated that they are not able to disclose details of the risk assessment carried out by the Torrington Farmers Hunt for their Boxing Day event because doing so would be likely to:
"endanger the physical or mental health or the safety of an individual or group."
What absolute nonsense.
Requests for details of risk assessments are commonly submitted and routinely honoured by various organisations via the FOI process. Preventing the public from seeing the details of how the Torrington Farmers Hunt carried out their risk assessment for this event suggests there was something to hide.
In their original application for a Temporary Traffic Regulation Order the Torrington Farmers Hunt made the following statement.

Their submission included the following, laughable map which is supposed to clearly show how they proposed to manage the traffic, where road closure signs would be placed etc.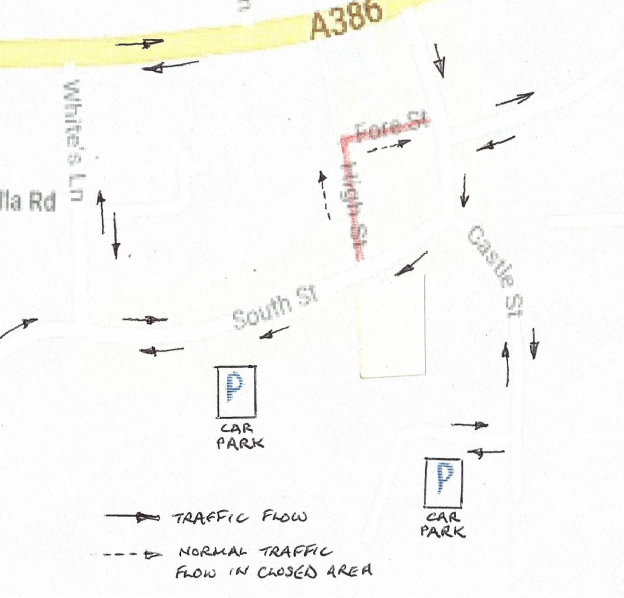 They must have finally found their colouring crayons because they subsequently submitted this more colourful version and they almost managed to stay within the lines.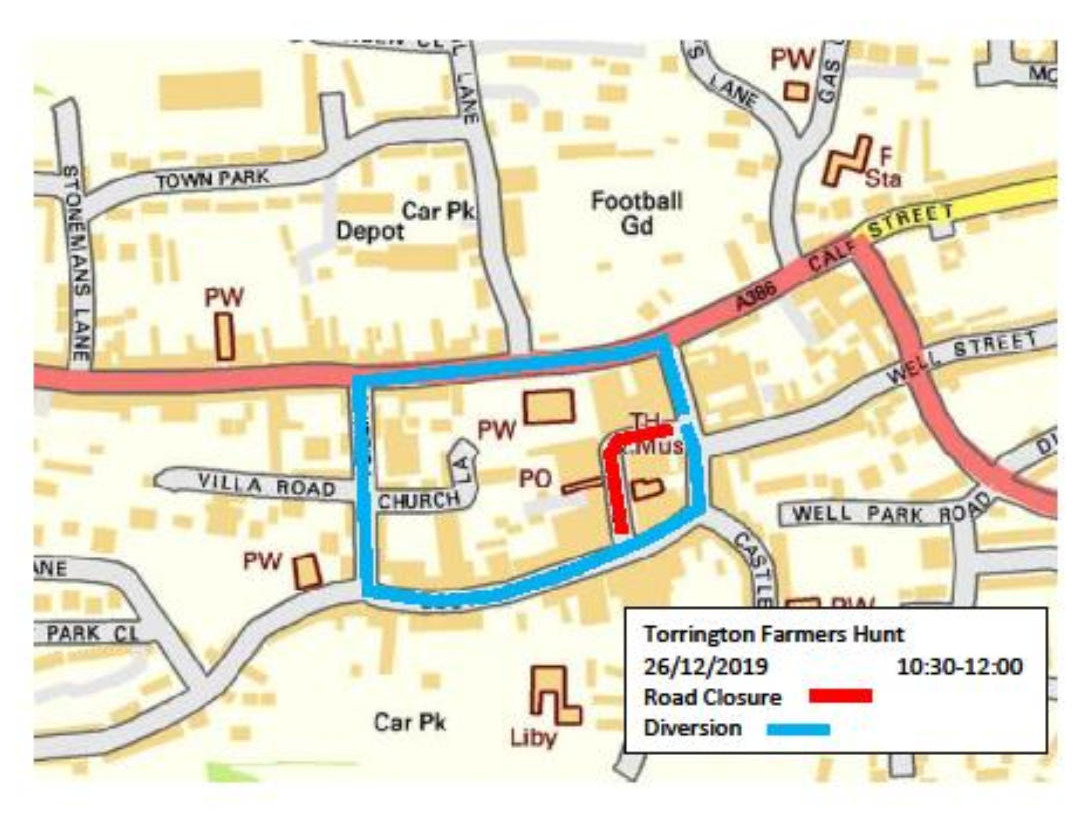 This diagram makes it very clear that the only road closures for which this TTRO applied were High Street and Fore Street. Both Potacre Street and South Street were clearly designated as the diversion route.
When we first saw this we were a little confused. The normal Hunt behaviour at this annual Boxing day event has been to gather outside the Black Horse public house and glug too much booze before cantering around the centre of Great Torrington via High Street, Fore Street, Potacre Street and South Street. Yet their TTRO application designated both Potacre Street and South Street as traffic diversions, so did their revised plan not include this annual procession? Perhaps their risk assessment had looked at this aspect of their procession and determined it was too risky and wasn't covered by their liability insurance.
Independent Risk Assessment
Since Torridge District Council refused to disclose details of the risk assessment that was alleged to have been carried out by the Torrington Farmers Hunt we instigated our own, commissioning the services of multiple, professional, independent equestrian event safety assessment professionals. These safety assessments have reported that the centre of Great Torrington is entirely unsuitable for an equestrian event of this type. The narrow streets, the absence of safe spaces for people to move into and the failure to keep animals and people separated by barriers were all cited in the reports provided. Perhaps these are the reasons why Torridge District Council didn't want us to see the risk assessment carried out by the TFH?
The Event
Before the event, people were seen in the centre of Great Torrington putting diversion signs in place. At one point it even looked like they were going to put some barriers across the junction of High Street and South Street, but realising this was where their supporters wanted to stand they decided against it.
Anti hunt protestors from Devon Against Hunting arrived early and took up position outside Torrington Town hall with a huge banner.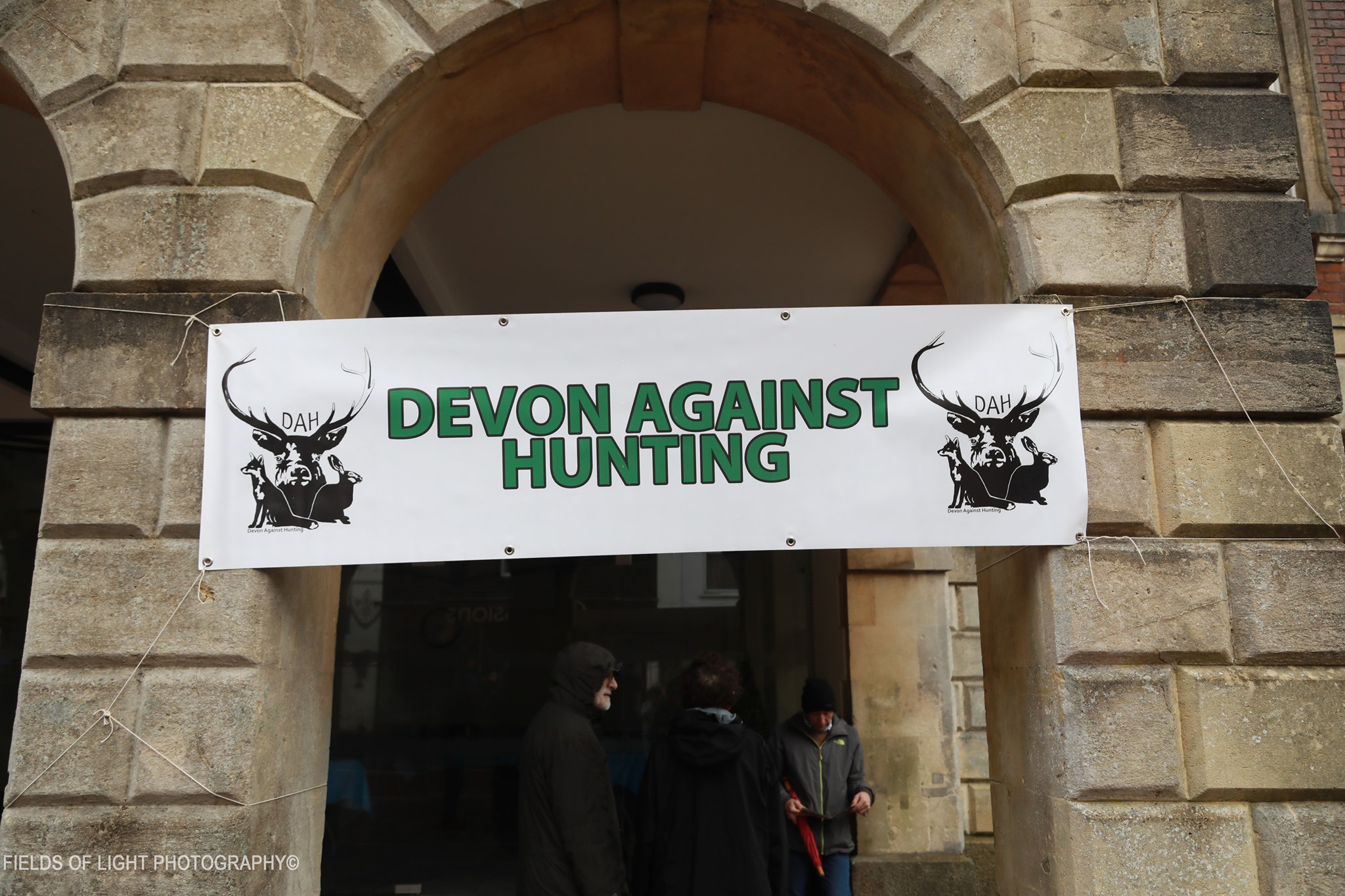 When riders arrived it was clear that they had been briefed to be on their best behaviour. It was apparent that the widespread reporting of the 'arrogant huntsman taunting protestors' in 2018 was not something the TFH were keen to see happen again.
Although the Boxing Day weather wasn't as bad as anticipated attendance at the event was much lower than it had been in 2018. It was noticeable that there were far fewer children at this year's event, perhaps due to safety concerns. But it was also noted that none of the horses at the 2019 event had red ribbons tied to their tails, unlike in previous years. For those who don't know, red ribbons signify that a horse is a kicker. Red ribbons are also sometimes used to indicate that a horse is inexperienced. Does this mean that only non-temperamental, safe horses were brought into the town centre on Boxing Day?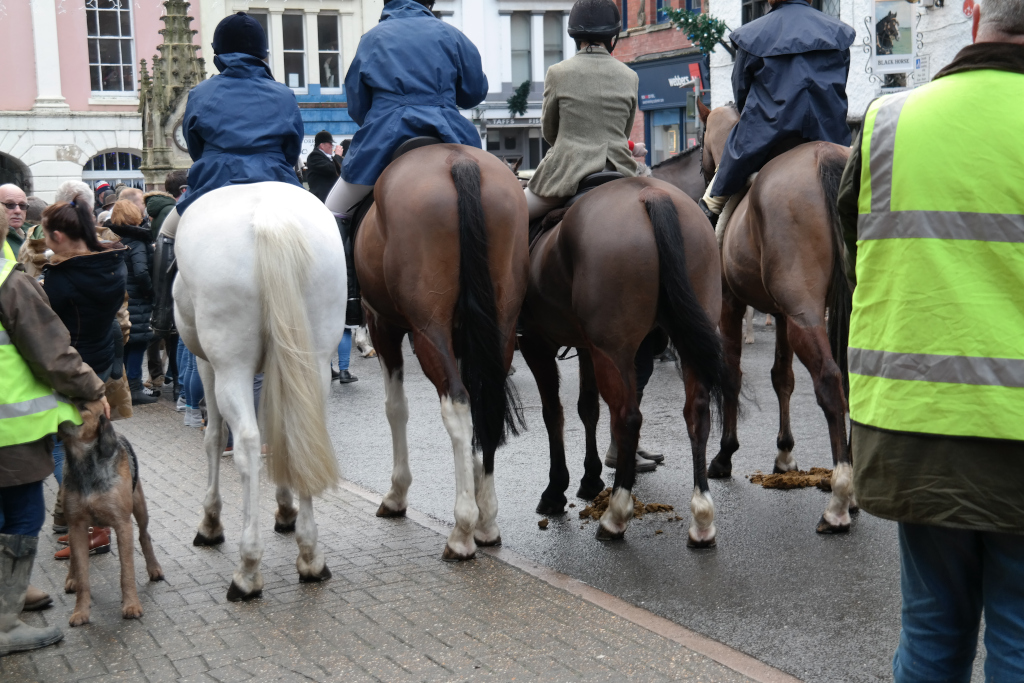 As anticipated, the designated diversion route via South Street was quickly blocked by supporters and onlookers.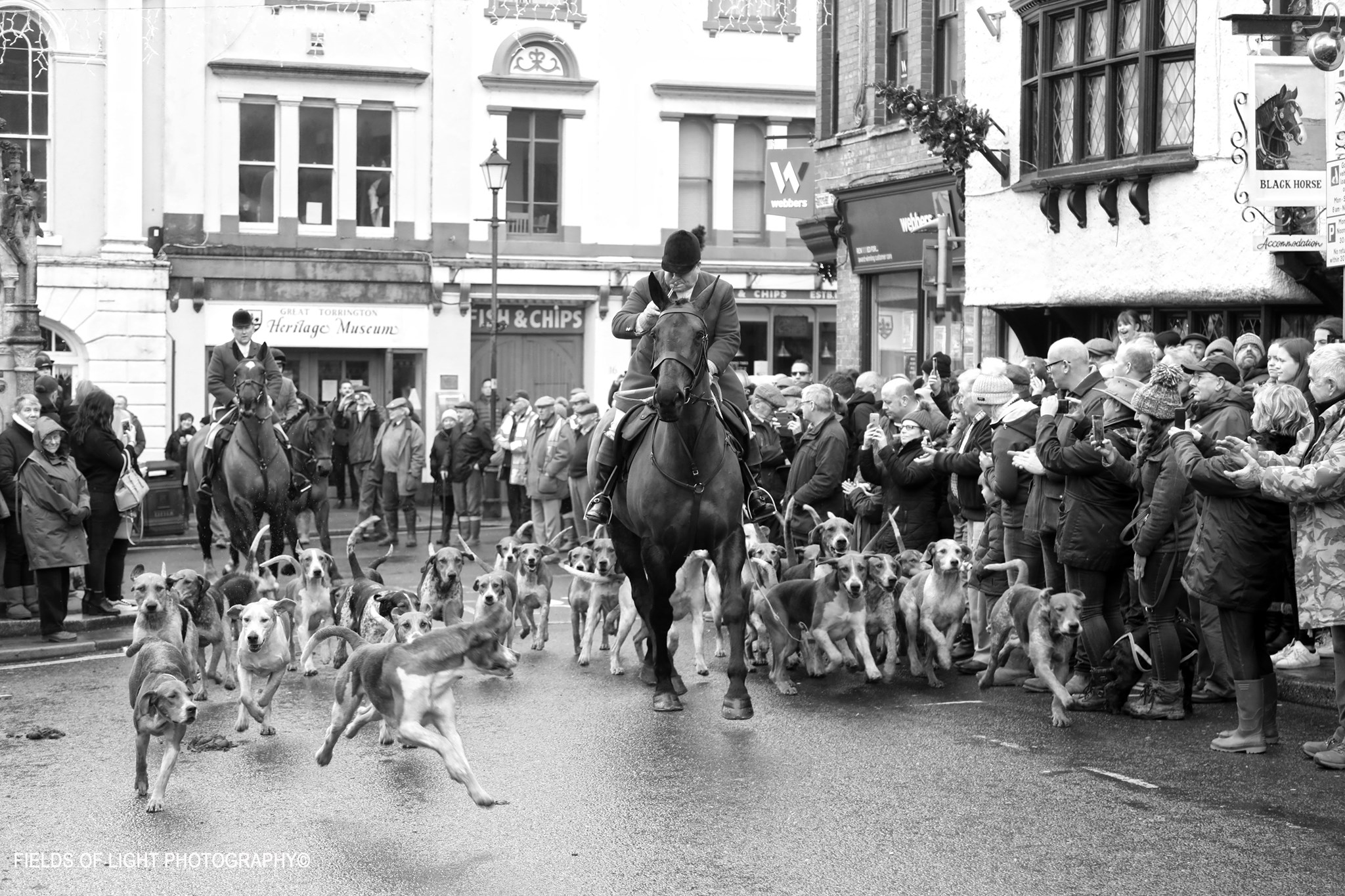 Steve Craddock then proceeded to lead the riders and their hounds twice around the block, cantering at speed via High Street, Fore Street, Potacre Street and South Street. This clearly reflects the inadequacy of the Torrington Farmers Hunt event preparations as they failed to keep designated diversions clear. What's more, they put the safety of onlookers and others at risk by failing to provide safe barriers and space between them and the fast-moving horses.
It's worth noting that prior to the event the Black Horse public house attempted to get other town centre businesses to open up on Boxing Day. They even approached Wildwood and Willow, a local gift and artwork shop who are ardent supporters of our local wildlife, and asked them if they would open up – they naturally declined. The Black Horse public house would do well to reconsider their ongoing support for the Torrington Farmers hunt and their Boxing day event. Not too long ago the pub was the regular haunt and meeting place for the Black Horse badger digging club and the Black Horse Otter week. Both of these once considered valuable traditions have thankfully disappeared – it's about time the same happened to the Torrington Farmers Hunt Boxing Day meet.
Dig Outs and Bagged Foxes
While the TFH riders were boozing outside the Black Horse public house a TFH terrier man was witnessed arriving covered in mud from the waist down. What had he been up to and what was he reporting to the huntsman?
The Torrington Farmers Hunt, like other persistent, illegal fox hunts, want the public to believe that they fully comply with the 2004 Hunting Act by "trail hunting" and they no longer purposely hunt foxes. They want people to believe that if their hounds chase and kill a fox these days then that happens by accident and was never their intention. Trail hunting is a myth and the Torrington Farmers Hunt are simply perpetuating a well known lie in order to continue with their barbaric, blood thirsty behaviour without scrutiny. But like many other over-hunted countryside regions there are so few remaining foxes that, to be certain they have an animal to chase, they will capture them in advance, bag them and release a fox for the hunt. Some hunts even breed foxes on purpose, feeding the young directly to the hunt hounds to give them a taste for killing foxes. Keep in mind that pro-hunt supporters like to argue that hunts are performing a useful countryside function by culling troublesome foxes. In fact fox populations in the countryside are so low in many regions that hunts need to breed their own. And they still want us all to believe their trail-hunting lies!
Quad Crash and Suspected Kill
After quaffing liberal quantities of booze in the centre of Great Torrington Steve Craddock led his gaggle of miserable looking blood junkies off on their traditional Boxing Day route down School Lane and onto Darracott lane where hounds were cast across Torrington Commons. It's worth noting the high number of illegal agricultural quad vehicles that appear on the roads around Great Torrington on Boxing Day.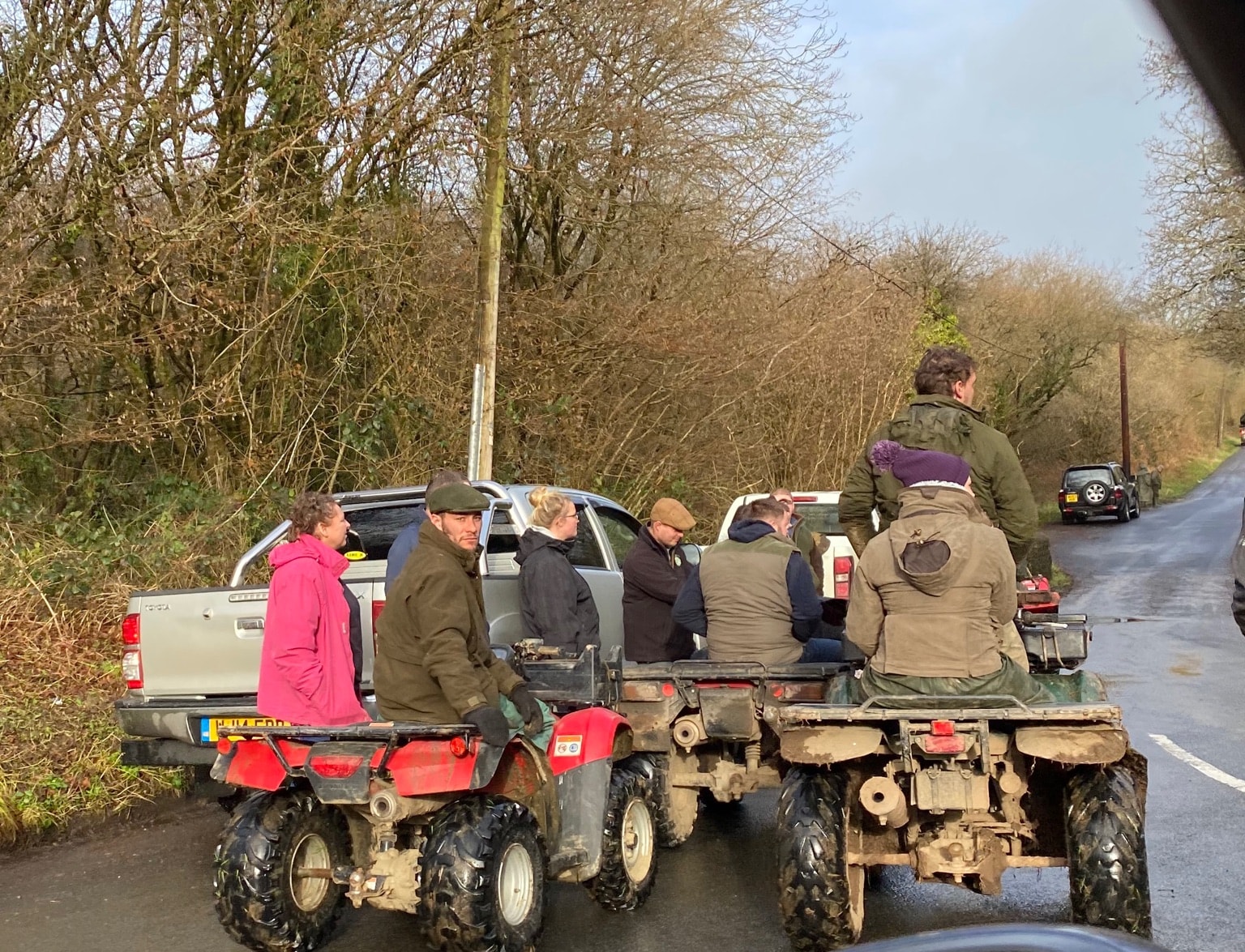 It is well known in agricultural circles that policing around Great Torrington, which is very poor at the best of times, is strikingly absent on Boxing Day. People know that riding into town on an unlicensed quad and boozing with your mates is unlikely to get you stopped and breathalysed by the police. And the chances of the police stopping a hunt rider and verifying that they aren't riding drunk is never likely to happen around these parts.
Luckily a few plucky hunt monitors followed the hunt, at some distance, as they proceeded on their route via Huntshaw wood and beyond. One of the TFH quad-riding hunt supporters managed to topple their quad, trapping themselves in the process.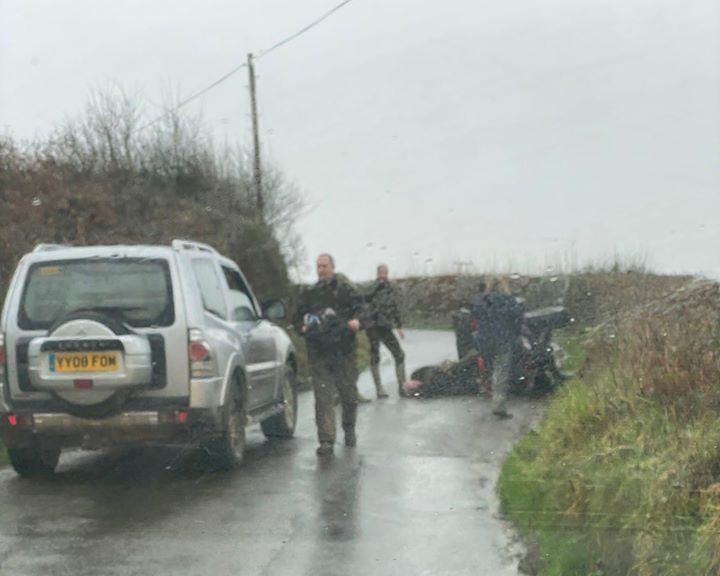 The police were called but unfortunately we don't know whether the quad rider was OK and whether or not they were breathalysed. Some have suggested this is Karma.
Hunt monitors witnessed TFH hunt support emerging from Cleave Wood clutching a suspicious black bin bag. When the woods were subsequently checked evidence of tampering with a badger sett was discovered, recorded and reported to the police.
Inaction from Torrington Town Council
Yet again, Torrington Town Council have proved themselves to be worse than useless in addressing the very real safety issues that exist around this annual event. Although these have been highlighted and clearly pointed out to councillors they have continued to fail townspeople by not taking any action whatsoever. They say that since the event takes place on the roads and pavements it falls under the control of Devon County Highways and they can't do anything – which is nonsense.
The attitude from Torrington Town Council contrasts with that seen from more progressive town councils such as St Ives in Cornwall which has banned the Western hunt event. As stated:
"It was noted that the character of the parish had changed from one dominated by a rural economy to one where most people no longer wished to have the hunt in the town.Councillors said that it was an anachronism, the time for which had now passed, and that new traditions should be developed for the town."
When was the last time that Torrington Town Council even bothered to survey all of the Town Centre residents regarding the Boxing Day TFH event? In 2018 the event was reported in the national press due to the obnoxious, arrogant behaviour from the huntsman. In 2019 the TTRO request submitted by the TFH was inaccurate and misleading, illegal quads were recorded yet again on the roads around Great Torrington, a likely drunken quad rider rolled his vehicle, a badger sett was interfered with and it's suspected that a fox was dug out. It's becoming increasingly apparent that Great Torrington is a town where rural crime is not taken seriously. Is this really the reputation that the council wants to see develop around Great Torrington?
Torrington Farmers Criminal Hunt Gang
The Torrington Farmers Hunt continuously plan and coordinate illegal fox-hunting in breach of the 2004 Hunting Act. This is the very definition of organised crime. Throughout the hunting season they can be witnessed in the fields and countryside around Great Torrington openly chasing foxes with their pack of hounds. They make no attempt to "lay a trail" and regularly trespass on private property.
During the 2019 / 2020 season Steve Craddock and his handful of fellow TFH riders have found themselves on the receiving end of attention from Devon County Hunt Sabs and Devon Against Hunting monitors. Steve Craddock has a reputation for being a particularly inept huntsman who cannot keep his hounds under control. Sabs and monitors gain a great deal of experience in dealing with a multitude of blood-thirsty hunters so they are very able to compare and contrast the skills of various hunts-people – and Mr Craddock is always bottom of the class.
Back in 2014 Steve Craddock was one of six members of the Lamerton Hunt being prosecuted by the League Against Cruel Sports for S1 Hunting Act offences. Due to a technicality the case was dropped.
Recently the TFH were encountered trespassing on private land at the Deep Moor recycling centre outside Great Torrington. When the hunt was confronted over their trespass one of the TFH people told the person complaining about their trespass to "F*** Off". There was a subsequent struggle to find TFH contact details so here is Steve Craddock's mobile number: 07970 984959. And his home and business address from which he offers Farrier services is: Bourna Farm, Huish, Merton, Okehampton, EX20 3EJ. His business telephone number is: 01805 803009.